Page 2 of 2
Regional MSO Chooses Equalizer for Training and Tools to Bring Auto Glass Services In-House (article continued)
Third, Star Body Works can ensure calibrations are correctly performed on its customers' cars, which is becoming increasingly important in glass work.
"People who've been doing (auto glass) for 20 years don't understand the importance of recalibrations, and it's putting lives in danger," Jennings said. "That's the shadow lurking behind the windshield business."
Jennings said he reached out to Shannon Kern, education program director at Equalizer, to find out what it would take to get trained. Soon after, he and another employee went to Texas for the one-week course. Jennings, who started in the collision repair industry with a high school internship more than 20 years ago, said the course "was a lot more than people anticipate," but he saw students who started with no knowledge of the industry build their skills as quickly as people who already had years under their belts.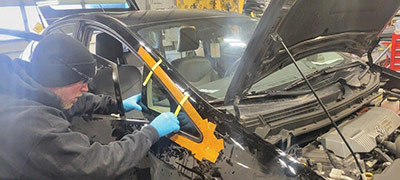 Over the five days, the students learned about laws related to glass repair and replacement and were taught---both in the classroom and in a hands-on shop---how to correctly prepare a vehicle, including pre-scanning ADAS features, and perform the work. The course was capped off by a final written test and a hands-on replacement observed by instructors.
When the students passed the final, they were certified by Equalizer and eligible to take the national certification test, which Jennings also passed.
Equalizer also gives students a tuition credit to purchase tools, which Jennings took full advantage of. He said Star Body Works uses the Viper and Raptor cord and wire glass removal tools, as well as Equalizer's glass stands, knives and chip and crack repair tool.
"I like the tools and the way they work," Jennings said. "You know they're going to have the tool that works the best. All their tools work together."
Jennings said he has only had to send back one tool to be repaired, which Equalizer did, under warranty, and returned in two days.
"We get really good support," Jennings said. "I'm constantly ordering stuff from them. They know me and answer with 'Hey Jake.'"
Equalizer® Industries, Inc.
512-388-7715
www.Equalizer.com
www.autoglassacademy.com
Facebook: @equalizertools
Twitter: @equalizertools
Instagram: @equalizertools
YouTube: @equalizervideo
To read more auto body shop profiles in the June 2023 Shop and Product Showcase, click here.