Prestigious Awards Announced at Collision Industry Red Carpet Awards Breakfast During SEMA 2022
Written by Stacey Phillips, Autobody News
Published Nov. 7, 2022
Members of the collision repair industry gathered at the Collision Industry Red Carpet Awards Breakfast on Nov. 2 during the SEMA Show in Las Vegas, NV.
Prestigious awards and recognitions were given out by the Collision Industry Electronic Commerce Association (CIECA), the Collision Repair Education Foundation (CREF), Greco Publishing, the Inter-Industry Conference on Auto Collision Repair (I-CAR), the National Auto Body Council (NABC) and the Society of Collision Repair Specialists (SCRS).
"This awards breakfast is important for our industry… and I appreciate the companies, organizations and individuals who have supported this effort," said Jeff Peevy, the master of ceremonies and I-CAR's vice president of technical products, programs and services. "It's a beautiful and very respectful thing that we do to make this industry better for the future generations coming."
The event was sponsored by participating organizations.
CIECA
CIECA Chairman Phil Martinez, senior technical consultant at Mitchell International, announced CIECA's awards.
Three Architecture Committee members received an Outstanding Contribution Award for working on the next generation of collision industry standards---CIECA API Standards (CAPIS). They included Committee Chair Dan Webster from Enlyte, Andy Bober from Entegral and Mike Hastings from Car-Part.com.
Gene Lopez, of Seidner's Collision, and Frank Terlep, of Opus IVS, received a Chairman's Award for extraordinary leadership co-chairing the Emerging Technologies Committee, which has spun off several other committees to develop standards.
Enterprise Holdings was named CIECA's Company of the Year. "The company chosen this year truly supports CIECA and its mission in many more ways than just volunteering on committees," noted Martinez, who recognized Kim DeVallance Caron for her dedication.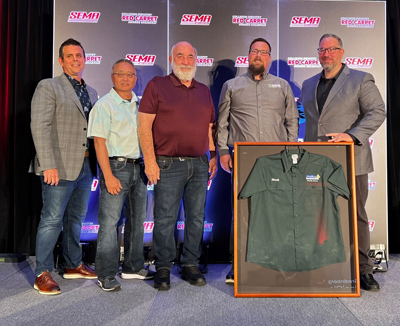 CREF
Brandon Eckenrode, managing director of CREF, announced Rod Habel, director of training for Sherwin-Williams, received a Fueling the Future Award, which recognizes an individual or company that has gone above and beyond helping the collision repair school program students and instructors.
"He has always been there for schools and students across the country," said Eckenrode.
Two instructors shared what Habel's support has meant to them and their programs. Jay Abitz from Freedom High School in Wisconsin said the generous donations from Habel and Sherwin-Williams have really changed the trajectory of their program.
Kenny McMillian from Kennedy King College in Illinois also shared his sentiment. "I would like to express my special thanks and gratitude to Rod Habel and all he has done for our program at Kennedy King College over the years, as well as everyone at Sherwin-Williams who embraced our collision program," he said.
Greco Publishing
Mike Anderson from Collision Advice received Greco's Publishing's Industry Icon Award. "Our inaugural industry icon award winner is known locally, regionally, nationally and globally as the 'go to' in collision repair," said Alicia Figurelli, Greco's Publishing's senior vice president.
"My dad passed away in May and this is a memory of him," said Anderson. "He helped me understand what quality was and customer service, and I'm grateful for that." He added he was truly humbled and grateful for the award.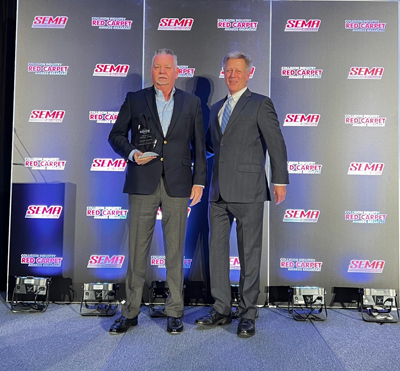 I-CAR
I-CAR's awards were announced by John Van Alstyne, CEO and president. Bill Condron at Sawgrass Ford received the Jeff Silver Memorial Award, named after the industry leader who was considered the pioneer of I-CAR Gold Class and Platinum recognition programs.
"Just as Jeff showed the difference one person can make, our award recipient believes there is something he can do about the pervasive talent shortage," said Van Alstyne. "He's made it a personal mission to recruit new talent in the industry he loves. Just as important, he takes the time to nurture the newcomers and support the continuing professional development of everyone he works with."
Eveland Bros., Collision Repair, Inc., a family-owned and operated operation, received the Russ Verona Memorial Award.
"Our award-winning collision repair center invests heavily in the education of its staff who hold I-CAR Platinum credentials and are certified by ASE and dozens of OEMs," said Van Alstyne. The business has adhered to I-CAR's Gold Class standard continuously since 1993, making it one of a very small group of shops in the country to reach this milestone.
NABC
Rather than handing out awards, NABC President and CEO Bill Garoutte gave accolades to those in attendance and those who weren't. "Our mission and vision are to make the collision industry the best it can be and put on its best face for the communities where we live and work," said Garoutte.
SCRS
During the last presentation of the morning, Danny Gredinberg, administrator of the Database Enhancement Gateway (DEG), received the 2022 March Taylor Kina'ole Award. It was presented by Aaron Schulenburg, executive director of SCRS; Barry Dorn, vice president of Dorn's Body & Paint; Toby Chess; and Dale Matsumoto, president of Auto Body Hawaii.
"This is a very special, meaningful award for all of us," said Schulenburg.
When March passed away, Schulenburg said it was important this his legacy of Kina'ole---doing the right thing at the right time for the right reasons---was honored, acknowledged and rewarded. It also became a mantra for SCRS and many others.
"True Kina'ole really happens naturally. It has a deeper meaning," said Matsumoto. "It doesn't happen in your head. It happens here… in your heart."
Chess, the 2021 recipient of the March Taylor Kina'ole Award, said March was a great mentor and stood for what Kina'ole is. March regularly arrived at his shop at 5 a.m. to communicate with the information providers on times that were not right in the database.
"When he got up to 200 of them, he said, 'I can't do this anymore. They are coming in faster than I can handle,'" recalled Chess. That was the birth of the DEG.
When announcing the award recipient, Dorn said Gredinberg is tireless with the DEG, just like March, getting up early and staying up late to do the right thing for those who don't have a voice. "[Danny] has shown us time and time again that he cares and he cares selflessly about what goes on and he embodies what Kina'ole is."
"I love giving back because there was a time when I needed help and I was reaching out to resources that were available through the DEG," said Gredinberg. "I'm very fortunate to be part of a great industry that has given me so much."