Paddock's Does Million-Dollar Jobs, Every Car Painted with SATA Guns (article continued)
Paddock said SATA spray guns have been in the equation since nearly day one, a decision he has surely never regretted.
"In my high school's auto body program, I used another brand because I didn't know any better. One day, a coworker at a shop where I was working was spraying with a SATA gun, and I asked him can I use it? It was amazing and I have never considered using a different gun since that day."
Now he owns a dozen SATA guns, all of which play a different role as he restores highly collectible Duesenbergs, Packards and old Bugattis.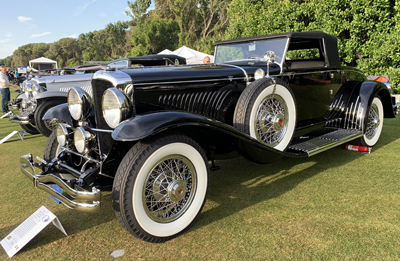 "I love the way the SATA guns fit in my hand," Paddock said. "With many of the cars I paint, I'm shooting at 90 degrees into crevices, which can be difficult. It also depends on the fan in many cases. I have it opened wide sometimes, and then I have to pin it down a little bit depending on the contours of the vehicle I am painting."
Paddock has developed his own style of painting over the years.
"I kind of spray differently than many people who think I'm kind of crazy," he said. "I use a 1.2 tip versus a 1.3 or 1.4 when I am spraying clear coat because it atomizes better and lays out nicely. That way, I'm not just pounding material on whatever. In addition, I am using less material with the SATAs. With these high-end cars, I will put four to even six coats on a car but I'm putting less on at a time because it just lays out much better."
Paddock also values the customer service offered by SATA, even though he has only needed it once, he said.
Dan-Am Company
One Sata Drive
P.O. Box 46
Spring Valley, MN 55975
(800) 533-8016
www.satausa.com
Facebook: @SATAUSA
Twitter: @SATA_DanAm
Instagram: @sata_by_dan_am
YouTube: SATA by DanAm Company
To read more auto body shop profiles from the October 2022 Shop and Product Showcase, click here.