Page 1 of 2
Opus IVS Gives Auto Body Shops Confidence to Diagnose the Most Complex Vehicles
Written by Ed Attanasio, Autobody News
Published March 7, 2023
When diagnostics became a daily part of every collision repairer's life less than a decade ago, many owners were hoping calibrations would be an option. Those days are long gone, and with cars getting more complex every day, auto body shops are turning techs into diagnosticians and creating full-fledged departments to do calibrations, with training, accuracy and knowledge at the forefront.
Opus IVS (Intelligent Vehicle Services) has established itself as a leader in its solution offerings, and has grown considerably, signing up MSOs and small independent shops at a consistent and rapid rate. It is also experiencing overwhelming interest and inquiries for new business with fleets, car rental and vehicle auction companies.
CEO Brian Herron and Global Sales Leader Bill O'Brien sat down recently with Autobody News to talk about the company's capabilities and why it is expanding its footprint in the collision repair industry.
Opus IVS helps shops repair complex vehicles quickly with its diagnostics, programming and live repair guidance. The company is committed to helping mechanical and collision shops to complete repairs with intelligent vehicle support, and an emphasis on accountability and safety. Opus IVS uses its extensive expertise in vehicle communications combined with a world-class cloud-based architecture and hundreds of ASE-certified technicians and OEM Dealer Master Technicians to deliver solutions for its customers.
The company is the Intelligent Vehicle Support division of Opus Group, formed through the industry-leading acquisitions of DrewTech, Autologic, Farsight, BlueLink and AutoEnginuity. It focuses on addressing the evolving needs of auto body repair shops, giving them the confidence to get the most complex vehicles back on the road safely and quickly without having to sublet work out to the local dealership---an overwhelming occurrence still adversely impacting the repair industry.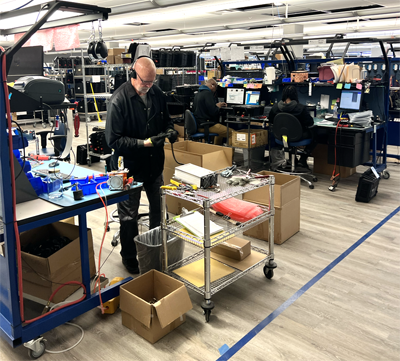 The journey began in 2005, focusing solely on mechanical repair. In 2020, Opus IVS entered the collision repair industry, and today it performs approximately 9,000 services every day, including scans and calibrations. With locations throughout the U.S., UK and Australia, Opus IVS is growing quickly and becoming the go-to diagnostics company for many of the country's largest MSOs. Its DriveSafe with IVSTrio is backed by IVS 360™ Live Expert Support and fully integrated with CCC ONE® software.
Herron and his company started out serving the mechanical side of the industry by helping to create legislation that set the table for where we are today with ADAS and diagnostics.
"Back in 2013, the company played an integral role in the Right to Repair movement," Herron said. "Some of the language in there came from our direct work with the OEMs and Right to Repair Coalition to find a solution. We helped support both sides during the Massachusetts Right to Repair battles, both the 2013 battle and most recently in 2020.
"This legislation really was a bridge between the OEM diagnostics and the ability for third parties to be able to use it for items like OEM scanning and calibration," Herron said. "So that was one of the building blocks that we helped to pull together. We supported the OEs, but then Right to Repair was the bridge to get that technology into the aftermarket delivering OE software and tools."
The Right to Repair laws helped shops to access valuable OE information, but it wasn't the complete recipe for success, Herron said.
"Eventually what we all found is that just providing the repair industry the aftermarket OEM tools wasn't enough because of the need for training, lack of experience in shops, other priorities and many other factors," Herron said. "So that's where the remote service business picked up the slack.
"It's all about accessibility, because let's say that you are a tech at your local repair shop and regularly repair General Motors, Ford and Toyota vehicles, and you're confident with understanding the technology on those repairs, but now, BMW or Mercedes rolls into your shop," Herron continued. "You want to help that customer, repair the vehicle according to procedures, but you don't have the experience with that brand. That's why we currently have experienced certified technicians at our call centers, that are accessible and ready to assist you and your shop with explanations of the codes presented and the requirements needed to address the repair and what's going to need to be calibrated.
"We help guide them down a path instead of searching via Google or other third party providers. This knowledge is more important than ever, especially with the shortage of technicians that we are experiencing right now," Herron concluded. "A shop may be adept at working on Fords or Chevys, but what do they know when they have a complex issue with a Tesla, Mercedes or BMW?"
Opus IVS is filling the gaps and stepping up with the especially tricky and complex issues associated with many of the luxury brands, O'Brien said.
"Our ability to go from the UK, Canada, Australia and perform a review of the mechanical and collision repair-related programming in Dexter, MI, is a huge plus for the industry," O'Brien said. "Our strong support network coupled with our industry awarded solutions can guide our customers through every aspect of that repair and ensure the programming and calibration is done right the first time."
Part of the company's success is from providing options.