NABC Recycled Rides Presents 7 Vehicles During 2023 SEMA Show
The refurbished vehicles were donated to local Las Vegas residents in need of reliable transportation.
Written by Abby Andrews, Autobody News
Published Nov. 3, 2023
One of the most inspiring events of the 2023 SEMA Show in Las Vegas, NV, took place Nov. 1, when the National Auto Body Council's (NABC) Recycled Rides program presented fully refurbished vehicles to seven local residents in need of reliable transportation.
Held on the rooftop of the Renaissance Hotel parking facility, overlooking the Las Vegas Convention Center, the presentation changed the lives of U.S. military veterans, a brain cancer and burn survivor, a single parent, and people who aged out of the foster care system and no longer have support.
Also in attendance were all the partners who made the presentations possible, including representatives of the local nonprofits who nominated the recipients; car donors GEICO, Travelers, Farmers Insurance, Nationwide, Hertz and Enterprise Rent-A-Car; repair partners Caliber Collision, Classic Collision, Crash Champions, CARSTAR, Faulkner Collision and CCG member Updated Auto Body; and 1-800 Charity Cars.
Scott Sampley, chairman of the NABC, said the Recycled Rides program is on track to donate more than 200 vehicles in 2023 alone. Since the inception of the program in 2007, more than 3,200 vehicles have been donated.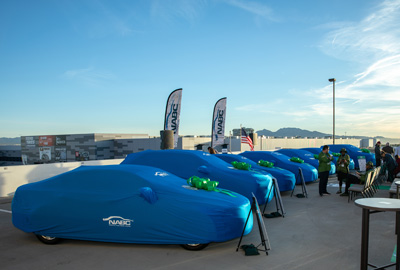 Glenn Castillo, nominated by U.S. VETS, received a 2015 Kia Optima, donated by GEICO and refurbished by Caliber Collision.
Castillo is a U.S. Navy veteran who served from 1998 to 2006. After Castillo lost his job, he was at risk of being evicted from his apartment. U.S. VETS helped him find a new job as a medical assistant, but it required a two-hour bus ride each way.
Castillo said he was grateful he decided to answer an email about the donation.
"It's one of the best decisions I've ever made," he said, adding he thanks God for helping him figure things out.
Luciana Hamilton, nominated by My Scars are Beautiful, received a 2019 Toyota RAV4, donated by GEICO and refurbished by Caliber Collision.
Hamilton is a burn survivor from a house fire, and has also undergone surgery to remove a brain tumor. Without a vehicle, she has had to pay for ride shares to go to doctor appointments, and walk in the often severe Las Vegas heat to take care of daily errands.
"What a blessing," Hamilton said. "Thank you, everyone. This car is going to bring so much joy in my life."
Richard Carreon, nominated by Forgotten Not Gone, received a 2021 Nissan Altima, donated by Hertz and refurbished by Updated Auto Body, a member of the Certified Collision Group.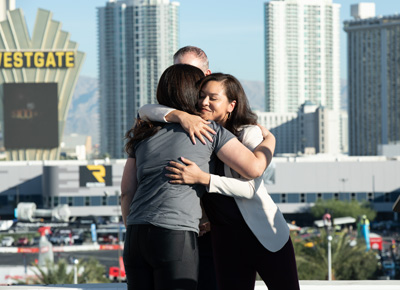 Carreon is a U.S. Army combat veteran who served from 1999-2014 and deployed three times to Iraq and Afghanistan, earning a Bronze Star and Purple Heart. Carreon suffered from untreated PTSD, leading to the loss of his car. Since receiving treatment, Carreon has volunteered with Forgotten Not Gone, a veteran suicide prevention nonprofit, since it was founded in 2015. The vehicle will help him continue to volunteer and fulfill other roles.
"When the world doesn't give you a reason to get up, purpose is the most powerful thing," Carreon said. "This vehicle will help me be efficient and keep paying it forward."
Jakob Todd, nominated by the Children's Foundation of Las Vegas, received a 2020 Toyota Corolla, donated by Nationwide and refurbished by Faulkner Collision Centers in Pennsylvania.
Todd entered foster care when he was 5 and was shuffled from home to home until he was 16, when he ran away from a bad foster home. By his 17th birthday, he was in a juvenile detention center. There, he buckled down and graduated from high school. On his 18th birthday, he was offered a job, but it is a two-hour bus ride from his home. He has endured the four-hour round trip commute for more than a year, and also mentors troubled teens once a week with the local police. Having a car will make it easier for him to attend junior college and eventually continue at a four-year college.
"I have a deep love and appreciation for every individual who put this event together," Todd said. "This restored my faith that our community has our back. Not just me, but every [recipient] here has one less thing to worry about."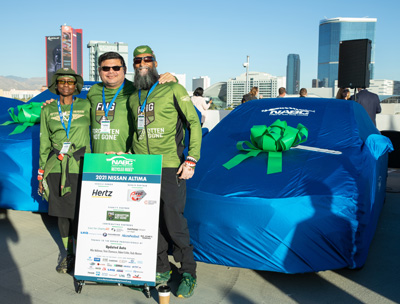 Alberto Swann, nominated by the Children's Foundation of Las Vegas, received a 2017 Hyundai Elantra donated by Travelers and refurbished by CARSTAR.
Swann was placed in foster care, along with his siblings, when he was 8. Over the next decade, they were moved to more than 20 different homes, before Swann was turned out of the system when he turned 18. He was homeless for more than a year. The Children's Foundation has helped him secure a stable home and job, and he has gotten his driver license. Now 27, he rides a scooter to work, after the bike he was using blew out a tire. Both exposed him to the extreme weather. The car will ease the struggle that transportation has been his entire life.
"I really want to thank everyone for this opportunity," Swann said. "I've been struggling for a long time, but this will help."
Ryan Houston, nominated by the Children's Foundation of Las Vegas, received a 2017 Honda Accord donated by Farmers and refurbished by Classic Collision.
Houston was 7 when he and his two younger siblings were placed in a foster home with their grandparents. Before Houston turned 18, both of his grandparents passed away. When he turned 18, Houston aged out of the system and asked to take his siblings with him. He was able to meet the requirements of a stable home and job eight months later, and he was awarded "foster kinship" of his siblings, now 16 and 13, but they have had to rely on the often unpredictable public transportation system.
"I wasn't expecting things to go the way they did," Houston said. "I learned you have to reach out; you can't just be by yourself. Help from friends and family means too much to bear."
Finally, Tonya Jones, nominated by Family Promise of Las Vegas, received a 2020 Jeep Compass, donated by Enterprise Rent-A-Car and refurbished by Crash Champions.
Jones is a single mom, after she fled from her young daughter's abusive father only with what she could fit in a friend's car. When the pandemic hit, she lost her childcare and was eventually laid off from her job. Then a thief stole her identity and her unemployment benefits, leading to eviction when she could not pay rent. Family Promise provided emergency housing, and she soon secured a new job. Jones' mother also moved in, and needs dialysis treatment two to three times per week. Jones has been paying for ride shares to get her mother and daughter where they need to go and to run errands.
"I'm really grateful," Jones said. "This means so much. I've had to start over twice in the past two to three years, and this will allow me to take [my daughter] to see the world. This will also let me make the end of my mom's life special for her."