Page 2 of 2
Mitchell Hosts High School Students to Show Career Opportunities in the Collision Repair Industry (article continued)
Sikora said he started working in a collision repair shop when he was 17. He later owned a custom restoration shop, which was how he met Gary Leger, the owner of a 1967 Ford Bronco and the father of a student at Santana High School. Leger knew the auto body program at the school had just been shuttered after the last instructor retired, and asked Sikora if he would be interested in re-opening it. A week later, Sikora had the keys to the school's shop.
Leger had another reason to support the re-establishment of the auto body program---he owns three Fix Auto body shops in the San Diego area that all need to be staffed.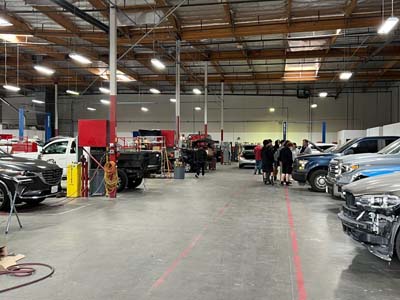 "The older generation is aging out," Leger said. "We have to show [younger people] it's not just banging on fenders anymore. There are more computers in a Honda than in a 737."
Leger said he has been involved with the auto body program at Santana High School for about four years, and was also working with one at a high school in Ramona, CA, where he co-owns a fourth Fix Auto shop, until that program was closed.
He said a graduating senior from Santana's program will start working at one of his shops full time in June.
"I'm lucky to have a bit of a younger crew," he said.
Later that afternoon, Leger and one of his employees led the students in smaller groups around the shop floor at Fix Auto Poway, which has 27,000 square feet of production space and repairs about 200 vehicles per month---including Rivians, which has certified the shop as a repair center.