Mills Body Shops & Auto Glass Elevates Customer Experience Using Equalizer Products (article continued)
Decker said he was so pleased with the Equalizer products he never considered other suppliers. One of the things he feels most differentiates Equalizer in the market is its exceptional training.
He sent two of his leading technicians to a five-day, 40- hour training school---Equalizer's Auto Glass Academy in Round Rock, TX, taught by Global Education Director Gilbert Gutierrez, one of the inventors of the Equalizer Viper tool. Gutierrez even gave his technicians his cell phone number in case they had questions beyond the training.
The technicians received a voucher to purchase additional products during the training, which they used to purchase the Equalizer Stingray and the Equalizer Pushknife.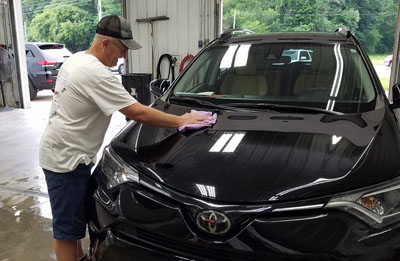 The Stingray has high torque, fast acceleration and a top-end speed that is faster than any of Equalizer's Express tools.
How it operates: The plunger floats on a series of ball bearings, and the blade is driven by a floating pin-bearing system. This allows all the power of the Stingray to be pushed directly to the blade. Ergonomically designed, the tool provides repairers with a comfortable and natural grip. Plus the low profile of the handle gives techs clearance no matter which direction they are cutting. The tool has rotating speed control, which gives a wide range of speeds from 500 to 3,000 strokes per minute.
The Equalizer Pushknife is also impressive. It features a rectangular plate for striking with a rubber mallet, enabling power from the mallet to be transferred to the blade and through the urethane. Equalizer blades can be easily changed out by unscrewing the hinged plate that locks the blade in place.
Decker said by investing in quality Equalizer products, his shop is able to maintain a high level of customer satisfaction.
Celebrating 52 years in business, Mills Body Shops values its employees and invests in its staff by giving them the best possible training. They are an I-CAR Gold Class shop and are certified in Nissan, Ford, GM, Chrysler, Jeep and Hyundai.
"We want to be known for quality and how we treat people," he said. "That's why we've grown consistently each year over the last five years."
Equalizer® Industries, Inc.
2611 Oakmont Drive
Round Rock, TX 78665
(512) 388-7715
www.Equalizer.com
Facebook: @equalizertools
Twitter: @equalizertools
Instagram: @equalizertools
YouTube: @equalizervideo
To read more auto body shop profiles in the October 2022 Shop and Product Showcase, click here.