Page 2 of 2
Knight Enterprises LLC says ANEST IWATA's Series 2 'Blows Other Guns Out of the Water' (article continued)
"I continued trying different ANEST IWATA guns---the LPH 400, the W 400, WS 400---there's just so many amazing gravity feed spray guns," he said. "Even the LPH 80, I use on all my custom jobs and small spot repairs.
"There's nothing that you will pick up from ANEST IWATA that you won't enjoy spraying because of the quality of the product and professional results."
He also appreciates the versatility of ANEST IWATA products.
"You can use them in your high-end body shop or at-home shop," Thurber said. "Their products are top notch; they know how to set themselves apart."
However, Thurber believes ANEST IWATA's soon-to-be-released WS 400 Series 2 Clear and the LS 400 Series 2 Base gun "blows any other gun out of the water." He had the pleasure of demoing both products for two weeks in late June.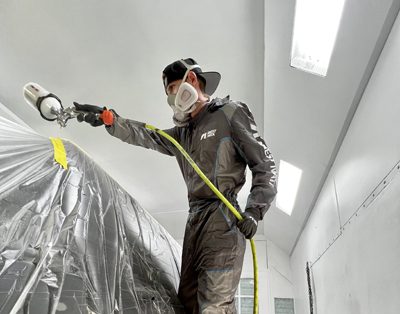 "I've never sprayed or handled anything so admirable and comfortable as these guns," he said. "Right out of the box, just looking at it, it's a beautiful thing; it's slim, lightweight---much lighter than the Supernova."
Thurber continued, "It has that nice chrome gunmetal look to it, and it's scratch resistant, which was a much-needed improvement from the Supernova."
He said despite "pushing the Series 2 to its limits," he did not see a single scratch. Thurber also found the Series 2 easier to use.
"One of the big things for me with the Supernovas was having to dial in your fan in a couple of turns to find that even spray pattern," he explained. "Right out of the box, Series 2 is ready to spray; you don't have to adjust your fan or fluid knobs at all."
Thurber continued, "You simply pull the trigger, shoot both Series 2 guns at 29 psi and you're getting the most even and atomized results I've ever seen. You also save money by having less overspray and therefore using less material.
"These guns have surpassed all my expectations," he added.
Over the years, the paint equipment company has also provided Thurber with valuable customer support.
"Whenever I bring any concerns or thoughts to ANEST IWATA's attention, they put it in perspective and consider my recommendations," he said. "If you have a question, they're more than willing to help you. For example, they'll suggest different air pressures and fan patterns to ensure getting the most out of your gun."
Thurber said he highly recommends purchasing the WS 400 Series 2 Clear and LS 400 Series 2 Base when they're released in Fall 2022, because he will be doing the same.
"These spray guns aren't just another gun to add to your collection, they will take over your collection," Thurber concluded.
ANEST IWATA USA, Inc.
Catherine Swisshelm
catherine.s@anestiwata.com
(513) 417-0106
www.anestiwata.com
Facebook: @AnestIwataUSA
Twitter: @anestiwatausa
Instagram: @anest_iwata
LinkedIn: @anest-iwata
YouTube: @Anest Iwata USA Inc
To read more auto body shop profiles from the October 2022 Shop and Product Showcase, click here.