Page 2 of 2
KECO GPR Reduces Cycle Time, Boosts Bottom Line at European Motor Car Works (article continued)
Over the years, the company has made hefty investments in tools and equipment, OE certifications and staff training. Which accounts, said Yeung, for a door rate significantly higher than most body shops'. The average repair ticket runs at least $17,000.
In lieu of replacing costly panels or dealing with the current parts shortages, Yeung said, "GPR allows us to offer customers a quality repair and adhere to OE recommendations. Those are reasons why KECO fits so well into our shop."
Staff training is another factor. "Another unique thing about KECO is that they offer training. A lot of older professionals don't like change and regress to original techniques. When KECO comes to train with a hands-on approach to their newest products and 6C process, it helps the technicians buy into the system, because the new techniques are so much better."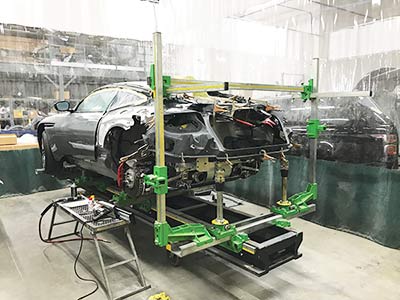 In reflecting on his 40- plus years in business, Yeung credits the company's success to multiple factors. In addition to a highly skilled and certified staff, his family plays a prominent role. Daughters Jennifer Yeung and Nichole Hubbard now oversee the business. Son-in-law Mike Hubbard is the ace ADAS tech, while grandson Connor Kelly is earning certifications in welding and structural repairs.
Yeung also attributes the company's growth and profitability to the KECO GPR system and believes other shops would benefit significantly from integrating KECO GPR into their businesses.
"The conventional way of using an older process is more intrusive. If shops adapt to Glue Pull Repair, it will allow for less cycle time, it's a better-quality repair and they will be more profitable.
"The key is to buy into the system and train technicians. It will improve shops' bottom line. The ROI is very, very good."
KECO Body Repair Products
405-745-2145
www.kecotabs.com
Facebook: @KECOBodyRepairProducts
Twitter: @kecotabs
Instagram: @kecodentrepair
LinkedIn: @keco-body-repair-products
YouTube: @KECOBodyRepairProducts
To read more auto body shop profiles from the June 2023 Shop and Product Showcase, click here.