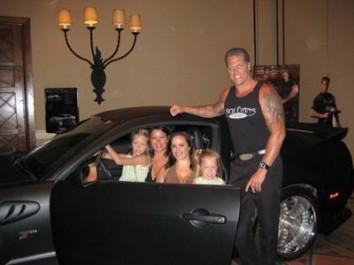 Rich Evans with family inside the Hardcore Knight
Autobody News columnist and custom car builder Rich Evans, of Huntington Beach Bodyworks, has signed a television deal with studio Four In Hand.
Together Evans and Four In Hand will create a revolutionary show that will bring Evans' creative genius and passion for customizing anything that moves.
Whether it's trucks, boats, bikes or cars, Evans stamps his signature style on everything that leaves his garage.

"Four In Hand couldn't be more excited about working with the world's greatest customizing artist, Rich Evans," remarked Henry Johnston, executive vice-president of Global Distribution. "He's the best in the business and this show will prove it. We'll have drama, intrigue, and some creative twists that will make this a break-out show for all to watch."

"This is a dream come true," said Evans. "Four In Hand is giving me the opportunity to bring my craft to the small screen and take on projects that no one else has done. The concept we're developing will appeal to a wide audience and we hope everyone will tune in."

The show is currently in the development phase and is scheduled to begin production in 2009. Four In Hand is a new multi-platform studio that develops and distributes cutting-edge, quality productions for television, film, Internet and branded entertainment. The studio has critically- acclaimed programs airing on national television and several new shows in production and in development. Four In Hand's offices are in New York and Boston.
See Rich Evans columns on this site.