In a media-oriented demonstration organized by the Collision Repair Association of California (CRA), Autobody News' columnists  CRA President Lee Amaradio (left in photo) and Industry Trainer Toby Chess (using saw) were featured on ABC TV news (see video below) replicating Chess' earlier demonstration of mild steel in certain aftermarket parts vs high strength steel in OEM bumper reinforcements.
In the photo Lee Amaradio steadies an aftermarket reinforcement bar for Toby Chess who saws through it easily in a press demonstration of the vast differences between OEM and aftermarket reinforcement bars. The saw hardly scratched the OEM part (see video) yet cut the aftermarket part relatively easily.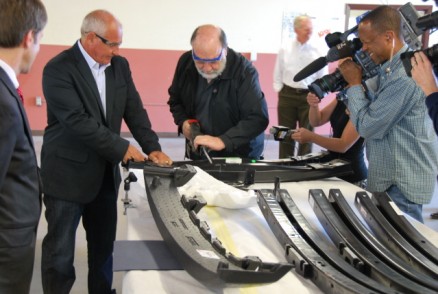 Attending the April 8 demonstration in Sacramento was California State Assemblyman
Dave Jones
(
see related story here
), (flanked by Amaradio (l) and Chess (r) in the photo below) who said he wants claimants notified if they had their vehicles repaired with any aftermarket bumper bar. Jones said  he wants insurers to stop requiring the use of aftermarket bars.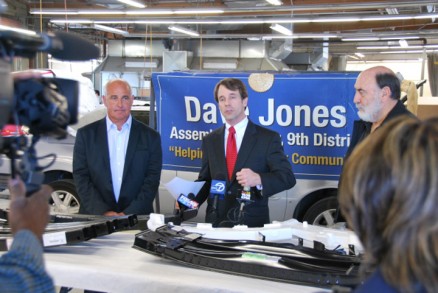 Jones released the following statement on April 9:
Unbeknownst to most Californians, for many years inferior aftermarket parts have been installed in their cars when they are repaired as part of an insurance claim after a collision. These substandard parts can affect the safety and performance of the vehicle in a future collision and pose a serious risk to anyone on California roads and highways.
California law requires that aftermarket replacement crash parts only be used in the repair of an automobile if "the parts are at least equal to the original equipment manufacturer parts in terms of kind, quality, safety, fit, and performance," and that insurers warrant that these parts are in fact as good or better than the manufacturer parts.
Today, I am calling on the Insurance Commissioner and the Insurance Industry to:
Identify all of the vehicles that contain these inferior aftermarket bumper reinforcement bars;
Notify the owners of the vehicles of the existence of these substandard parts and the risk they pose; and,
Develop a program to replace all of the defective bumper reinforcement bars on California roads and highways.
If the Insurance Industry is not able to take these simple steps to comply with California law and protect our residents, legislation should be introduced that orders insurance companies to do so, and provides strict penalties for failing to do so.