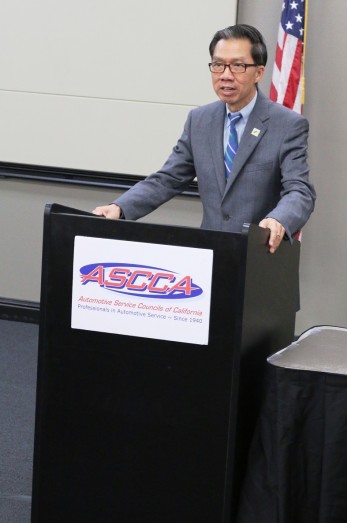 Guest speaker Assemblyman Ed Chau was on hand to discuss his salvage bill during 2017 Legislative Day.
Every year in April, the California Autobody Association co-hosts CAA/ASCCA/CalABC Joint Automotive Aftermarket Industry Legislative Day as the automotive repair industry in the Golden State lets their voices be heard as they convene at the Capitol in Sacramento.
On April 25 at the Capitol Event Center, 80 collision and mechanical repairers were on hand to discuss crucial issues that can affect their businesses in one way or another while preparing to meet with their representatives.
One particular bill--AB 1679 (Auto Body Repair)--was on the minds of all body shop owners in attendance at this year's Legislative Day, but there are three others that can potentially affect their livelihoods in many ways: SB640: Tax Reform-Extending Sales to Services (Hertzberg, D-San Fernando); AB5: Employers-Opportunity Work Act (Gonzalez, D-San Diego); and AB 475: Salvage Vehicle Registrations (Chau, D-Monterey Park) were also hot items for conversation.
CAA Executive David McClune knows all too well that without defending its rights, the automotive repair industry in California would likely be decimated by regulations and new laws. "We need to be vigilant, and that's why we have a great lobbyist like Jack Molodanof that can stay on top of everything that is going on here at the Capitol," he said. "If we can influence bills before they become laws and provide valuable feedback for our key decision makers, that's our goal."
This year's slate of speakers at Legislative Day included Assembly Member Ed Chau and the Chief of the Bureau of Automotive Repair, Pat Dorais. To kick off the day, everyone always gets briefed by Jack Molodanof, the lobbyist for all three organizations, who advises the members about the correct protocol to be used while meeting with their legislators.
Molodanof always opens with a joke or humorous anecdote, but after that, he's all business. Coaching the members of ASCCA/CAA about how to approach their local representatives is always crucial and that's why Molodanof always sets down the rules first. By strategically scheduling appointments throughout the Capitol's offices all day long, ASCCA/CAA members break into smaller groups to cover as much territory as possible and then hit the halls immediately after their morning briefing.
Moldanof has been involved in legislative industry events like this one for decades, so he knows the ins and outs of getting things done in Sacramento. "This is a marathon, not a sprint, and in the end, it's all about the relationships," Molodanof said. "The first step is to let your representatives know about your business and the problems and issues you're facing. A lot of these state assembly people and senators don't know a lot about the collision repair industry, but they want to learn. It's a great way to start a dialog and then build it from there. If you can get your representatives' cell phone numbers, which some body shop owners have, it is a big deal to have that level of access."
Molodanof was happy with this year's turnout, he said, and is hoping to see more body shop owners at the Capitol in 2018. "I went out to some of the CAA chapters earlier this year and I am seeing more and more people who are coming out to be part of the process, and that's excellent," he said. "If we can get the shops to become even more active, CAA and the entire industry in this state will be that much stronger."
CAA State President Kathy Mello has seen firsthand that making an impression every year in Sacramento is invaluable to the industry as a whole. "Some years, we have bills that can impact the collision repair industry significantly, and that is why we always need to be watchful," she said. "This year, it's AB 1679, and we are currently working hard to defeat it."
A letter that was written by CAA Executive Director David McClune on April 12 and sent to Autumn Burke, California State Assembly, clearly states why the organization is strongly opposed to AB 1679. Here are some excerpts from the official letter that clearly outlines CAA's strong opposition to the bill.
"On behalf of the CAA, we must regretfully oppose AB 1679, because it is anti-consumer, anti-small business and anti-competitive," McClune wrote. "The bill has two overreaching and troubling aspects: It corrupts the recently enacted voluntary labor rate survey guidelines and eliminates consumer protections with regard to consumers' right to selecting a shop to have their vehicle repaired."
Labor Rate Surveys
By way of background, a labor rate survey is a process that allows an insurer to determine a reasonable range of prevailing rates auto shops charge for labor to repair damaged motor vehicles. When properly done, a survey can be a useful tool for insurers to benchmark labor rates in a particular geographical area in order to pay a fair and reasonable labor rate. However, when improperly done, a labor rate survey can be used to artificially fix prices below market rates, forcing consumers to pay unnecessary out-of-pocket costs.
It is important to note that the vast majority of California insurers do not conduct surveys; do not see the need to conduct surveys and nonetheless do fine by paying the shops regularly charged rates.
For years, the California Department of Insurance (CDI) has combated insurers' abusive use of labor rate surveys, including taking disciplinary action and leveling fines against the most abusive insurers. The lack of standards in many of these surveys produced inconsistent, inaccurate and unreliable results. The CDI determined that regulations in this area were necessary to ensure consumers were protected. The recently enacted regulations were a result of a five-year process where all stakeholders (consumer groups, auto body shops, automobile dealers and insurers) were encouraged to provide feedback, identify concerns and provide data to support their assertions.
Specifically, AB 1679 allows insurers to:
· Include in the survey shops that do not meet the minimum equipment requirements set by the state BAR; also that do not have proof of garage keeper's liability insurance and workers comp insurance; in other words, insurers may use the underground economy to establish labor rates.
· Use DRP rates (negotiated rates with insurer in exchange for volume referrals) which will suppress market rates and skew results.
· Use an artificially large geographically area (entire county) that does not reflect the local market resulting in a statistically invalid survey.
· Use labor rates that are on shop invoices or third party software where the labor rate was forced upon the shop, further manipulating the survey results.
· "Cherry pick" and survey insurer chosen auto repair shops (20%) rather than all the licensed and properly equipped and insured shops in the local marketplace.
· Keep unreliable surveys results "secret" from public view, thus failing to hold insurers accountable.
· Make the unfair and unreliable surveys achieve a "rebuttable presumption" status under the law. Meaning that the "bogus" surveys will now be presumed to be statistically valid and not challengeable.
Consumer Choice
Under current law, consumers have a right to select a repair facility to have their vehicle repaired. Unfortunately, some insurers use unfair tactics to "steer" consumers away from their chosen shop and into insurer-contracted repair shops. Although insurers have the ability to advertise and promote their insurer-contracted repair shops, some insurers make untruthful, deceptive and misleading statements to consumers that unreasonably influence a consumer's right to select the repair facility. The CDI issued regulations to clarify and complement existing law to prevent steering and ensure unfettered customer choice of repair shops and more timely damage inspections. The new regulations provided guidelines for reasonable timeframes for insurers to inspect damaged vehicles and identify what constitutes unreasonable distances in cases where an insurer requires the consumer to travel to obtain a repair estimate or have a vehicle repaired.
AB 1679 eliminates these important consumer protections:
· Consumers will now have to travel over 15 miles in urban areas and over 25 miles in other areas to obtain a estimate or to have their vehicle repaired.
· Deletes the requirement that insurers inspect a damaged vehicle within 6 business days, thus creating delays for weeks, while also creating unnecessary out-of-pocket expenses for consumers (e.g. rental costs).
· Requires consumers to obtain a second estimate from an insurer DRP shop even though the consumer already obtained an estimate from their chosen shop. Consumers currently only required to obtain one estimate.
· Opens the door for insurers to make misleading statements to consumers about their chosen shop.