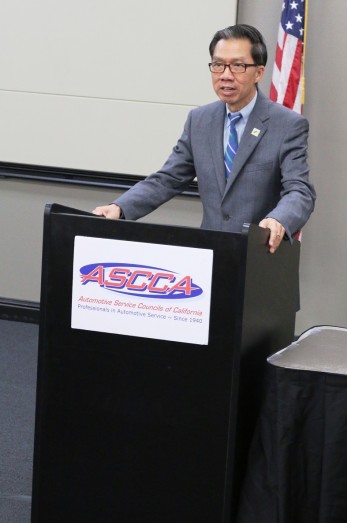 Guest speaker Assemblyman Ed Chau was on hand to discuss his salvage bill during 2017 Legislative Day.
Every year in April, the California Autobody Association co-hosts CAA/ASCCA/CalABC Joint Automotive Aftermarket Industry Legislative Day as the automotive repair industry in the Golden State lets their voices be heard as they convene at the Capitol in Sacramento.
On April 25 at the Capitol Event Center, 80 collision and mechanical repairers were on hand to discuss crucial issues that can affect their businesses in one way or another while preparing to meet with their representatives.
One particular bill--AB 1679 (Auto Body Repair)--was on the minds of all body shop owners in attendance at this year's Legislative Day, but there are three others that can potentially affect their livelihoods in many ways: SB640: Tax Reform-Extending Sales to Services (Hertzberg, D-San Fernando); AB5: Employers-Opportunity Work Act (Gonzalez, D-San Diego); and AB 475: Salvage Vehicle Registrations (Chau, D-Monterey Park) were also hot items for conversation.
CAA Executive David McClune knows all too well that without defending its rights, the automotive repair industry in California would likely be decimated by regulations and new laws. "We need to be vigilant, and that's why we have a great lobbyist like Jack Molodanof that can stay on top of everything that is going on here at the Capitol," he said. "If we can influence bills before they become laws and provide valuable feedback for our key decision makers, that's our goal."
This year's slate of speakers at Legislative Day included Assembly Member Ed Chau and the Chief of the Bureau of Automotive Repair, Pat Dorais. To kick off the day, everyone always gets briefed by Jack Molodanof, the lobbyist for all three organizations, who advises the members about the correct protocol to be used while meeting with their legislators.
Molodanof always opens with a joke or humorous anecdote, but after that, he's all business. Coaching the members of ASCCA/CAA about how to approach their local representatives is always crucial and that's why Molodanof always sets down the rules first. By strategically scheduling appointments throughout the Capitol's offices all day long, ASCCA/CAA members break into smaller groups to cover as much territory as possible and then hit the halls immediately after their morning briefing.
Moldanof has been involved in legislative industry events like this one for decades, so he knows the ins and outs of getting things done in Sacramento. "This is a marathon, not a sprint, and in the end, it's all about the relationships," Molodanof said. "The first step is to let your representatives know about your business and the problems and issues you're facing. A lot of these state assembly people and senators don't know a lot about the collision repair industry, but they want to learn. It's a great way to start a dialog and then build it from there. If you can get your representatives' cell phone numbers, which some body shop owners have, it is a big deal to have that level of access."
Molodanof was happy with this year's turnout, he said, and is hoping to see more body shop owners at the Capitol in 2018. "I went out to some of the CAA chapters earlier this year and I am seeing more and more people who are coming out to be part of the process, and that's excellent," he said. "If we can get the shops to become even more active, CAA and the entire industry in this state will be that much stronger."
CAA State President Kathy Mello has seen firsthand that making an impression every year in Sacramento is invaluable to the industry as a whole. "Some years, we have bills that can impact the collision repair industry significantly, and that is why we always need to be watchful," she said. "This year, it's AB 1679, and we are currently working hard to defeat it."
A letter that was written by CAA Executive Director David McClune on April 12 and sent to Autumn Burke, California State Assembly, clearly states why the organization is strongly opposed to AB 1679. Here are some excerpts from the official letter that clearly outlines CAA's strong opposition to the bill.
"On behalf of the CAA, we must regretfully oppose AB 1679, because it is anti-consumer, anti-small business and anti-competitive," McClune wrote. "The bill has two overreaching and troubling aspects: It corrupts the recently enacted voluntary labor rate survey guidelines and eliminates consumer protections with regard to consumers' right to selecting a shop to have their vehicle repaired."