"I asked my brother if he thought I would be capable of handling collision repair," McInerney said. "He let me work with him one day to see, and I loved it."
The Crossville, TN native's interest in cars didn't start there.

"My dad always had me in the garage helping out with cars he worked on while I was growing up," she added.
McInerney then decided to pursue a career in collision repair instead. She enrolled in the Auto Body and Collision Repair Program at Tennessee College of Applied Technology-Crossville (TCAT) in the fall of 2015.
"I chose TCAT because it was close to my home, and also because I liked the environment when I attended their early childhood classes while in high school," she explained.
McInerney said the hands-on aspect of the courses interested her the most.
"When I started teaching Nancy, I noticed right away that she had an eye for body work," said Travis Hurd, who has been an instructor at TCAT for three years. "With every project I gave Nancy, she just kept getting better, and not because I was pushing her, but because she was pushing herself."
Hurd, originally from Fort Oglethorp, GA, teaches the following courses at TCAT: Orientation into Collision and Safety, Non-Structural, Structural and Refinishing.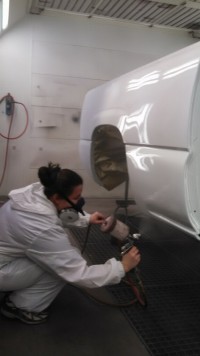 Nancy McInerney earned the title "Student of the Term" while enrolled in the Auto Body and Collision Repair Program.
Despite McInerney's love for collision repair and praise from her instructors, she said she did face adversity in the classroom.

"There were preconceived notions about my ability to perform in the collision repair industry as a woman," she explained. "Not long after starting the class, my peers realized that I was a force to be reckoned with."
While at TCAT Crossville, McInerney earned the title Student of the Term, which includes a semester paid for by the school, participated in Skills USA, and received a $1,000 scholarship from the Women's Industry Network (WIN) Foundation.

"I'm great at what I do and I love doing it," she said.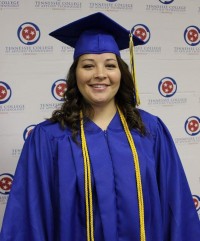 Nancy McInerney poses for a photo on graduation day.

Since graduating with honors in December 2016, she has worked in the industry as a painter and body tech.
McInerney advised other women interested in entering any male dominated industry to "have confidence in yourself or no one else will."
"Don't let anyone tell you that you can't," Hurd added. "Every woman that I have ever had come through my class has excelled and was placed into a great job."
For more information on TCAT Crossville, visit www.tcatcrossville.edu.