After graduating from Waukesha West High School in Waukesha, WI, he attended the University of Wisconsin Whitewater with an undeclared major.
"The university was great, just not for me," Mader explained.
After leaving school, he worked for a carpet cleaning company.
"I gained a lot of professionalism in the work field," said Mader. "However, I didn't feel like it was the job I wanted to spend the rest of my life doing."
He said he then began researching different career paths to try and find something he would be more passionate about. That was when he came across the collision repair program at the Universal Technical Institute (UTI) Houston.
"I requested more information, and after speaking with my admissions representative, Rudy Perez, and my parents, we came to the conclusion that UTI Houston would be my best option," explained Mader.
He said that his parents were confused at first, since he had never showed a significant interest in cars, but they supported his decision.
"My friends were all very excited, as a lot of them are in the automotive field or take interest in working on cars," Mader added.
Mader started taking classes at UTI Houston in May 2016 and said he loves it so far, which truly shows in his academic and extracurricular performance.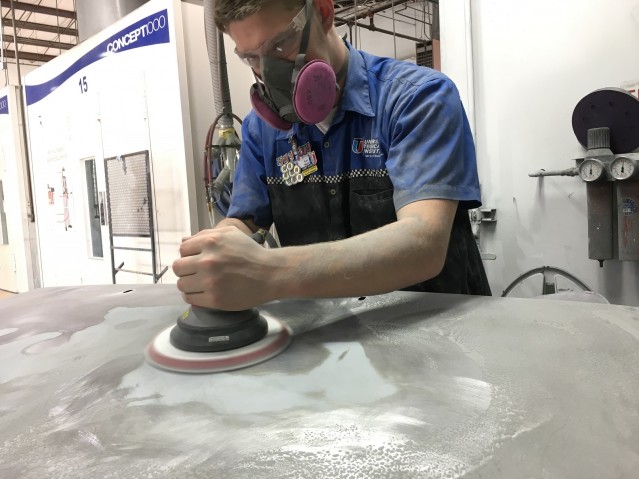 Mader found his true passion at UTI Houston. He plans to graduate this May.
"I joined the student council and currently serve as vice president," he said. "I have also gotten perfect attendance in all my classes so far, and have been named Student of the Course in seven of the 11 courses I've taken."
Mader explained that in order to be named "Student of the Course" (SOC), a student must have the highest lab grade in class, and maintain at least a 90 percent in the following areas: class grade (test scores), professionalism (using proper safety equipment, coming to class in the proper uniform everyday), and attendance.
"UTI Houston emphasizes the importance of having good attendance, because a shop is not going to want to hire you if they can't rely on you to show up," he added.
Mader was awarded title SOC in Exterior Panel Alignment, Exterior Panel Replacement (Quarter Panels), Welding and Cutting, Refinishing 1, Power Systems and Controls, Steering and Suspension, and Exterior Panel Repair. He's also had perfect attendance for two-thirds of his schooling and maintains a 4.0 GPA.
"After graduation, I would like to move back to Wisconsin and find a collision repair shop or dealership to work at," Mader said. "Eventually, I would like to write estimates for insurance companies."
He will be graduating in May 2017.
To learn more about UTI Houston, visit www.uti.edu/campus-locations/houston-tx.