"I had attended Appalachian State before the military when I was interested in going into the health field," said Brandi. "I attempted the university twice, but it just didn't feel right."
She said her husband, John, who is a mechanic, was the one who encouraged her to get into the collision repair industry.
Brandi recalled her husband saying, "You know, I think you should give auto body a shot. You have patience and an eye for detail, and you love cars, and auto body is pretty much that."
She said before that point, she had never thought about going into collision repair, despite her lifelong affinity for cars and art.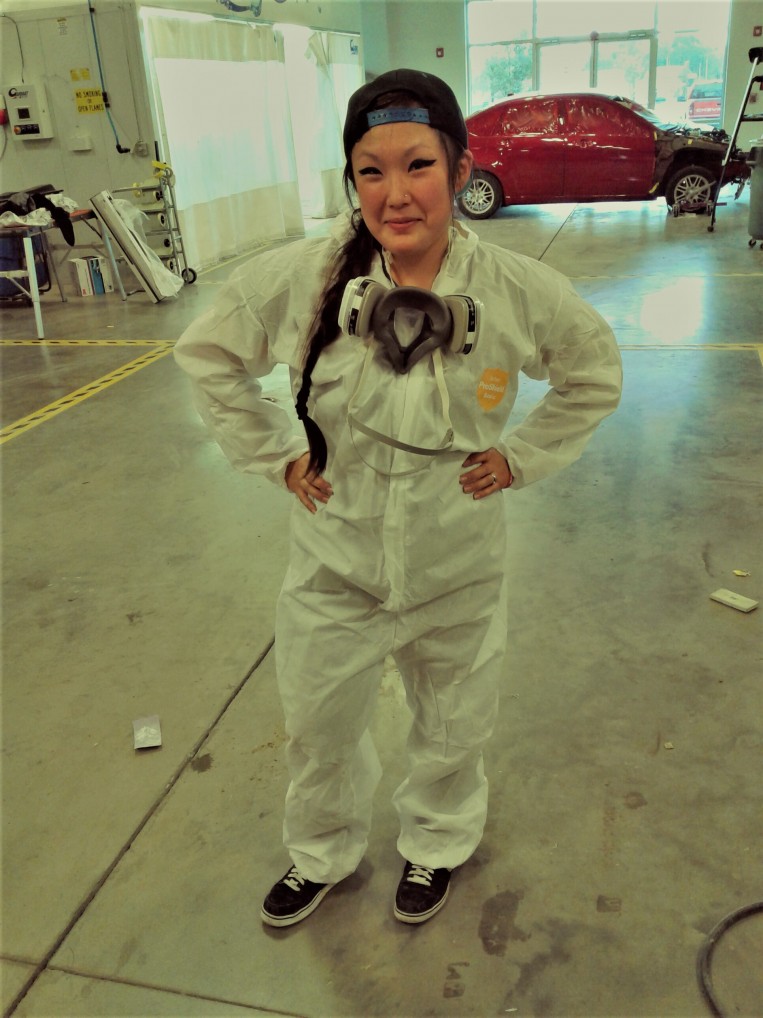 Brandi's love of art and cars landed her in the collision repair industry.

"John noticed that Fayetteville Technical Community College (FTCC) had sponsors from major companies, state-of-the-art equipment, various certifications, and overall great reviews," Brandi explained. "So we took a tour, and I immediately fell in love."
Brandi said she entered the program in Spring 2016 aiming to be a painter, but she also enjoys body work.
"Since the auto body world is currently looking for metal workers, I'm concentrating on that, but I wouldn't turn down a painter position," she said.
Brandi is currently taking the final classes for structural and non-structural damage, estimating and emerging trends.
"I have also attained my aluminum and steel welding certifications and completed all painting courses so far," she added.
Despite her achievements, Brandi said she has faced adversity being a female in a male-dominated industry.
"When I was working in a dealership as a body tech, while taking classes last semester, there was tension between the workers and me, especially in the beginning," she explained. "Without sounding coarse, they felt threatened or worried that I would replace them when I graduated FTCC."
Brandi said the other technicians either waited years to get specialized training or they didn't have specialized training at all. She, on the other hand, was "coming in hot with a trained mind and certifications."
"It was disheartening for a moment to deal with that atmosphere, but no matter where I go, I'll experience that and it's not going to deter me," Brandi said. "I'm going to keep focusing on being one of the best and producing good work."
She advised other women interested in entering the collision repair industry to "have thick skin and be the best."
Brandi said she is currently part of ABRA Auto Body & Glass, and that they have a job lined up for her when she graduates in December 2017.
Brandi will have a job waiting for her at ABRA Auto Body & Glass when she graduates in December 2017.
"I was noticed during 'Draft Day,'" she said. "It's an honor to be chosen for this job."
Paul Gage, collision repair instructor at FTCC, described Draft Day as a cross between the NFL and speed dating.
"It is the culmination of every student's journey through the CollisionU program," said Gage. "We invite 30 companies, plus special guests, to observe and interview collision repair graduates, automotive service graduates, and business graduates who have an interest in the automotive or insurance industries."
According to Gage, this event is unique to FTCC, and will be held again on March 14 and 15.
"I have achieved an incredible amount through the CollisionU program, such as maximizing my life's potential through art and cars and creating strong bonds with amazing instructors and peers," said Brandi.
She added that finding this program was an achievement in itself.
"I was wondering for a while what to do, and I found my calling."
To learn more about Fayetteville Technical Community College, visit www.faytechcc.edu.