...added to the estimate as an aftermarket item and data base entry (no hashtags.)
If you do not want to list each item, add a line for "corrosion protection items---see attached invoice for listing."
Next, the invoice can be used as a work order for your technicians. Kent Automotive has a corrosion protection station (Fig 7) brought to the tech's stall for rapid use of the products.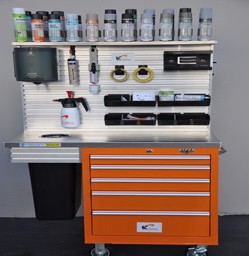 Fig 7
The invoice will show what items are needed for a particular repair. The technician will check off each item used and return it to the station, ready for the next vehicle.
The next task the invoice can be used for is retrieving any and all aftermarket clips and fasteners. I like to put each set of clips into separate bags with an RO number and their location on the vehicle.
Returning to our estimates---remember, the three estimates had a grand total of $46, $39 and $37 for materials, whereas mine was $214.92. How about adding $50 labor that was performed but not included in the original example gave earlier?
One hundred cars at $50 an hour equals $5,000. If you use those numbers, your new total sales is $207,500. Subtract the cost of sales of $120,000, and you get a gross profit of 42.7%.

I know the $120,000 would change because I added one more hour to the estimate and it would be shared with the body and/or paint technician, but it was easier to do the math by not adjusting the cost of sales.
Speaking of labor, how many of you are familiar with the Society of Collision Repair Specialists website? Go to SCRS.com and search for the complete guide to estimating.
In this section you will find 1,200 non-included items---yes, you read that right, 1,200---and best of all, it is free.
If you want an instruction sheet for performing STRSW weld testing go to the following on the SCRS website: Resources, Technical Information by Topic, Destructive Weld Test Worksheet.
SCRS has a web-based version of the guide, "Blue Print Optimization Tool." Just like the Kent PROS, each line item can be imported into your estimate. Go to SCRS.com and see a demo.
I might add it got Best New Tool Award at last year's SEMA Show.
Just adding the Kent PROS Invoice, plus the additional paint labor and destructive weld test labor, came out to a grand total of...