...a coating of epoxy primer before you apply any body filler. You will also coat any bare metal bonding surface with epoxy primer (Fig 4) where the adhesive will be applied.
Fig 4
I tell my shops to mix up the epoxy primer in a 4:1 cup for the day---pot life is about eight hours---and apply with a foam disposable brush. This is a non-included labor and material operation.
Did you know Toyota plastic clips are one-time use? That information is in CRIB 188.
CRIB 82 and 159 discuss the application of seam sealers---put down a coat of epoxy primer before replacing seam sealer---cavity wax, under coatings and body foams.
In CRIB 159, Toyota states "corrosion preventative coating (seam sealers and chip guard) must replicate to match OE application (looks) and purpose." None of the estimators in my class had a non-included line for labor to duplicate the factory applied seam sealer.

CRIB 181 deals with welding specifications and substitutions.

Is your shop doing destructive weld testing every time you MIG plug weld or spot weld on a vehicle? Probably not! Think about the multimillion-dollar Eagle collision settlement, and maybe it is time to change your company's SOP.
I wrote an article in Autobody News dealing with this issue. I strongly advise everyone to read it.
Destructive weld testing is covered by seven OEMs on their websites (Fig 5 & 6). This is a non-included operation.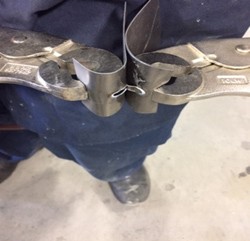 Fig 5
Fig 6
You will need to cut out pieces of metal from the vehicle to do the destructive test. Also, you will need to duplicate the same conditions when doing the destructive test as the welding operation being performed on the vehicle. For example, if the repair calls for weld bonding on the vehicle, the destructive test will be weld bonded too.
Back to the estimator class. I want to look at...