Recently, I did an estimating class for a regional MSO. I gave seven estimators a simple estimate to write prior to the class.
The vehicle was a 2015 Toyota Camry. The estimate included a replacement left quarter panel, four hours to repair the outer wheelhouse, three hours to repair the rear bumper, four hours frame set up and pull, and a labor rate of $50 per hour for body, frame and paint, and $30 for materials.

The estimates ranged from $3,900 to $4,900.
I asked the group how many included on their estimate to paint the backside of the quarter panel. One person did, and he charged a grand total of half an hour for paint and 0.3 to mask.
I showed the class a picture of the backside of the quarter panel (Fig 1) and the masking of the interior prior to the refinishing. (Fig 2)
Fig 1
Fig 2

The estimating guide calls for 3.5 hours to paint the outside of the quarter panel. The premise for paint time assumes a new OEM part on the exterior portion of the panel.
The justification for painting the backside of the panel is twofold: the original panel was refinished on the backside, and the time in the guide is for the exterior only.
I do know why the information providers do not have a pop-up like for a hood, but you need knowledge to charge for it.
Honda recently issued a Body Repair News dealing with corrosion protection for Honda Vehicle Repair. In it, Honda states the following:
"The backside of the new replacement panels (fender, door skin, quarter panel, etc.) should be prepared and coated with 2K urethane primer surfacer/sealer for corrosion protection. This 2K urethane primer should match...
...the factory inside coating color and shade (inner reinforcement part of the quarter panel is an example of this operation. A mist coat of catalyzed basecoat should be applied to match the factory appearance using the removed part as guide."
Going back to my Camry example---let's charge just two hours for painting the backside of the quarter panel and see how much this would add to our incomplete estimate.
Two hours at $50 for labor equals $100; two hours at $30 for paint materials equals $60; half an hour for color match at $50 for labor equals $25; and half an hour for masking at $50 labor equals $25, plus $5 for cover of primer (material), coming to a grand total of $215.
The backside of the rear body panel also needs to be addressed. There is probably removal and weld damage, but even if there is none, the panel will need to be refinished on the front as well as the backside.

CCC states in its guide under the topic of Weld Zone/Adjacent Panel, "suggested refinish operation times do not include addition time for repair of damage to adjacent panels resulting from normal cutting, welding and grinding procedures."
Again, I asked who had on their estimate to refinish the backside of the panel and you probably guessed it---no one had thought of it. The book time was 1.7 hours.
1.2 hours at $50 for labor equals $60; 1.2 hours at $30 for paint materials equals $36; minus .2 for overlap (combining labor and materials), $16, equals a total time and material charge of $80.
Just those two operations will give you a net of $295.

Let's look at Toyota's Collision Repair Bulletins for this repair. There are a total of 13 different CRIBs for this estimate. I am not going to list each one, but I will highlight a few.
CRIBs 63, 127 and 186 deal with epoxy primer. (Fig 3)
Fig 3

Toyota, as well as Honda, wants a coating of epoxy primer on all bare metal.
If you are repairing a fender, you will add...
...a coating of epoxy primer before you apply any body filler. You will also coat any bare metal bonding surface with epoxy primer (Fig 4) where the adhesive will be applied.
Fig 4
I tell my shops to mix up the epoxy primer in a 4:1 cup for the day---pot life is about eight hours---and apply with a foam disposable brush. This is a non-included labor and material operation.
Did you know Toyota plastic clips are one-time use? That information is in CRIB 188.
CRIB 82 and 159 discuss the application of seam sealers---put down a coat of epoxy primer before replacing seam sealer---cavity wax, under coatings and body foams.
In CRIB 159, Toyota states "corrosion preventative coating (seam sealers and chip guard) must replicate to match OE application (looks) and purpose." None of the estimators in my class had a non-included line for labor to duplicate the factory applied seam sealer.

CRIB 181 deals with welding specifications and substitutions.

Is your shop doing destructive weld testing every time you MIG plug weld or spot weld on a vehicle? Probably not! Think about the multimillion-dollar Eagle collision settlement, and maybe it is time to change your company's SOP.
I wrote an article in Autobody News dealing with this issue. I strongly advise everyone to read it.
Destructive weld testing is covered by seven OEMs on their websites (Fig 5 & 6). This is a non-included operation.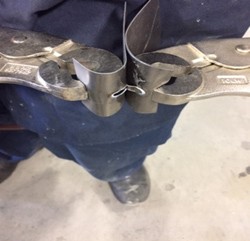 Fig 5
Fig 6
You will need to cut out pieces of metal from the vehicle to do the destructive test. Also, you will need to duplicate the same conditions when doing the destructive test as the welding operation being performed on the vehicle. For example, if the repair calls for weld bonding on the vehicle, the destructive test will be weld bonded too.
Back to the estimator class. I want to look at...
...what was on the estimates for corrosion protection items.
I took three of the middle range estimates, $3,900 to $4,300, and looked at the corrosion protection lines. The line items for this repair were as follows:
Estimate 1: $46 for materials and $20 for labor
Estimate 2: $39 for materials and $40 for labor
Estimate 3: $37 for materials and $28 for labor
Before moving forward, I want to share a simple business equation: sale minus cost, divided by the sale, equals gross profit percent.
Say a shop does 100 cars per month with an average repair of $2,000, which would translate into $200,000 per month. Using a cost of labor, materials, parts and sublet of $120,000, let's see what the gross profit percent would be.
$200,000 minus $120,000, divided by $200,000, equals a 40% gross profit.
Now add $25 of materials to each repair that were used but not included.
$202,500 minus $120,000, divided by $202,500, equals a 40.7% gross profit.
Remember, the cost of materials stays the same because the products were used, but not charged for in the original estimate.
I want to spend a little time on cost recovery programs.
There are a few cost recovery programs on the market. The one I am most familiar with is PROS from Kent Automotive.
Features I think are important to a shop include web-based inventory control, tracking capabilities, OEM parts (clips) cross referencing...
...integration with CCC ONE Management systems, partial quantities capabilities for corrosion protection items, it's user-friendly, integrated with scan tools and is no cost to the end user.
Let's look at the Kent program. An invoice was created in a couple of minutes. Every item on the invoice is backed up by Toyota's CRIBs and Repair Procedures.

The Kent program has a couple excellent features. First, you can input partial quantities. Looking at the invoice, you see 25% of a can of undercoating.
Second and more important, the program has a built-in quarter panel repair kit. You select the items appropriate for a particular repair, click on the ones not needed and within a minute or two, you have an invoice that can be printed, attached to the estimate in a PDF form and/or sent to CCC
.
I added six bumper clips (Toyota part no. 76853-10010) to the estimate. Remember, CRIB 188 states all plastic clips are one-time use. An additional $5.88 was added to the estimate.

Next, I went back to search assortments and clicked on bumper repair.
Before I go back to the original estimate, I want to show you how this invoice can be used for a number of repair operations.
First, it is a legal document for the estimate. In California, you need to list every item you are putting on a vehicle. The term "corrosion protection" is not a product, but an operation that could be one item or as many as 11.
I know insurance companies put that term on their estimate, but their estimate is not a legal document. Your legal document is a signed repair order, and it must reflect the repair process you performed on that particular vehicle.
When you put on your estimate "replace corrosion protection," you are responsible by law for any corrosion problems that could arise, even if the vehicle changes ownership.
If you don't believe me, look at the Eagle collision case. Please, remove the term "replace corrosion protection" from your estimate and add each item as a line item.
If you have the CCC One Management system and Kent PROS, three clicks on the PROS Invoice and each item will be...
...added to the estimate as an aftermarket item and data base entry (no hashtags.)
If you do not want to list each item, add a line for "corrosion protection items---see attached invoice for listing."
Next, the invoice can be used as a work order for your technicians. Kent Automotive has a corrosion protection station (Fig 7) brought to the tech's stall for rapid use of the products.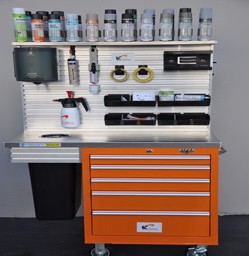 Fig 7
The invoice will show what items are needed for a particular repair. The technician will check off each item used and return it to the station, ready for the next vehicle.
The next task the invoice can be used for is retrieving any and all aftermarket clips and fasteners. I like to put each set of clips into separate bags with an RO number and their location on the vehicle.
Returning to our estimates---remember, the three estimates had a grand total of $46, $39 and $37 for materials, whereas mine was $214.92. How about adding $50 labor that was performed but not included in the original example gave earlier?
One hundred cars at $50 an hour equals $5,000. If you use those numbers, your new total sales is $207,500. Subtract the cost of sales of $120,000, and you get a gross profit of 42.7%.

I know the $120,000 would change because I added one more hour to the estimate and it would be shared with the body and/or paint technician, but it was easier to do the math by not adjusting the cost of sales.
Speaking of labor, how many of you are familiar with the Society of Collision Repair Specialists website? Go to SCRS.com and search for the complete guide to estimating.
In this section you will find 1,200 non-included items---yes, you read that right, 1,200---and best of all, it is free.
If you want an instruction sheet for performing STRSW weld testing go to the following on the SCRS website: Resources, Technical Information by Topic, Destructive Weld Test Worksheet.
SCRS has a web-based version of the guide, "Blue Print Optimization Tool." Just like the Kent PROS, each line item can be imported into your estimate. Go to SCRS.com and see a demo.
I might add it got Best New Tool Award at last year's SEMA Show.
Just adding the Kent PROS Invoice, plus the additional paint labor and destructive weld test labor, came out to a grand total of...
...$310 in labor and $170 for materials and clips---the invoice was $214 and their materials was an average of $44, leaving a net gain of $170.
I added $480 of totally justified labor and materials to the estimate. I added another 20 line items to the estimate, but I will leave the rest to another article in Autobody News.
A final note: some of you may be thinking, "Toby, how can I get paid for these operations and materials when I have DRP agreements in place?"

Well, I have several shops that are DRP-driven and have gotten together with their insurance companies and presented these labor operations and materials costs to them. They did it in a non-confrontational manner, choosing to educate rather than just start throwing new charges onto the estimates.
Generally, I've seen reasonable charges, backed by invoices, photo documentation or P-Page not-included statements are all that is needed to have most carriers to agree to these charges.
If you don't reach 100% agreement on everything, you will need to have each item listed on your repair order, even if you do not charge for those items.
Furthermore, purchases of new equipment and the cost of training comes from profits. Giving away these items necessary to achieve a complete and safe repair prolongs the time to recoup the cost of materials purchases and training.
Having the knowledge to justify each estimate line comes from training and, I repeat, training is not free.