Twenty-five years ago, many auto manufacturers found they were experiencing similar non-competitive issues in the industry. George Gilbert from Ford and Rick Sherwood from Campbell & Co. suggested meeting to discuss these issues.
The following year, six exploratory meetings were held with numerous OEMs to find out if it would be helpful to form a more formal group and convene regularly.
In 1999, the OEM Roundtable was formed. Since then, the group has held quarterly meetings alongside the Collision Industry Conference (CIC).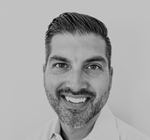 During the April 2022 CIC meeting in Oklahoma City, OK, representatives from the OEM Roundtable shared some of the history and guiding principles of the group. They included, pictured above, left to right, Mark Allen, collision programs and workshop equipment specialist at Audi of America; Dan Ducharme, wholesale parts senior manager for Volkswagen of America; and Devin Wilcox, collision certification manager at Subaru of America.
Currently, 13 major member companies are involved in the OEM Roundtable, including Ford, GM, Honda, Hyundai, Kia, Mazda, Mercedes-Benz, Nissan, Stellantis, Subaru, Toyota, Volkswagen and Volvo. Many of the representatives are active participants in industry organizations and committees as well as events and panel discussions.
Ducharme is the 2022 president of the OEM Roundtable. Prior leaders include:
2013–2014: Paul Massie, Ford
2015–2016: Gary Ledoux, Honda
2017–2019: John Eck, General Motors
2020–2021: Rossana Alvarez, Honda
2021: Mark Zoba, Nissan
The group's mission is to continuously improve the quality of collision repair available to vehicle owners.
Allen talked about some of the OEM Roundtable's frequent topics of discussion, which have included improving access to and use of repair procedures independently developed by some auto manufacturers, bringing awareness to the technician shortage, addressing challenges faced by repairers and parts sellers, as well as researching new industry programs and technologies.
In addition, the group discusses industry programs and legislative and legal updates. Allen said the OEM Roundtable operates under strict anti-trust guidelines.
"We want to help the participants in our programs do better," said Allen. "By offering support, we hope to build better success quicker for shops."
Wilcox said some of the guest presenters at the quarterly meetings may include...