The facility opened in 1983 with 10,000 square feet of production space, but by 2005, the collision center had relocated to a new building and a 48,000-square-foot state-of-the-art facility. It was constructed for optimum efficiency. Autobody News talked to Rudy Romero, the collision manager at Toyota Carlsbad, about the award and what makes the collision center so successful.
Q: Congratulations on receiving the nation's most prestigious award for Lexus, Toyota certified shop of the year! Can you tell us about the award?
A: We received this prestigious award, or notification of it, at the end of February 2017. There will be an awards ceremony and celebration coming up soon, which will be a nice surprise for the entire team and spouses/guests, including some executives from the Lexus corporate office.
Q: What are some of the shop's best practices that set your facility apart from others in the industry and may have contributed to receiving the award?
A: We really focus on the basics and believe that by taking the best care of our customers and employees, it will yield incredible results. We know that our team members are the most important assets to building a world-class business. If you hire and train the best, our customers/guests will experience legendary service, and I truly believe that it shows in our results of employee satisfaction, customer satisfaction and ultimately, profits and growth.
Part of our successes in 2016 were made at the beginning of the year when Toyota Carlsbad Collision, FinishMaster, PPG and 3M made a commitment to assess Toyota Carlsbad Collisions current KPIs and SOPs and meet quarterly to make incremental improvements. We were all committed to re-writing the playbook for our shop, which helped reduce waste, "MUDA" (the Japanese word for wasted movement). We also implemented new processes, "Kaizen," (a word used for continuous improvement) as part of our SOPs, which ultimately reduced costs and increased efficiencies. It is with "stakeholders" like this that help create greater successes for all entities.
Q: How long have you worked at the collision repair shop and what is your background in the industry?
A: I was hired by this incredible company on August 8, 2008. I've been in this end of the industry for 25 years now and worked for some of the best automotive groups in the country, such as the Bob Baker Automotive, Larry Miller Automotive and Penske Automotive Groups. I took everything that I learned along the way and brought all my teachings and ideas to Toyota Carlsbad, which is Oceanside Auto Country Inc., owned by Judy Jones-Cone. Mrs. Jones-Cone and her executive management has afforded me the opportunity and support to build an incredible TEAM with a fantastic facility that produces world-class employees in a fantastic environment.
Q: Can you tell us more about your team?
A: We have 52 employees at the award-winning collision center. Our number one focus is employee satisfaction/guest satisfaction! They are one and the same. Our team members are customers and the face of the business. The employees are the customers of the management—we make the team members happy, they make the business grow!
Nothing could be as important as each and every employee here. Our team of technicians takes pride in their workmanship. Each one has an average of 15 years of experience and they provide quality auto body repair and refinishing for our customers.
Q: What special features were added to your collision repair center since the renovation in 2005?
A: Our collision center now features the latest in technology and equipment including frame machines, measuring systems, dimension charts, oxy-acetylene resistance, MIG welding equipment, a PPG refinishing system and climate-controlled downdraft paint booths. In addition, we have networked and wireless computerized estimating with digital imaging.
More than $1 million has been invested in our renovated facility and specialized equipment so we can offer our customers the latest repair techniques and procedures. We have 59 repair bays and about 350 vehicles are repaired every month. Since opening in 1983, we have repaired 84,000 vehicles! The goal is to put our customers and their families back on the road as safely and quickly as possible.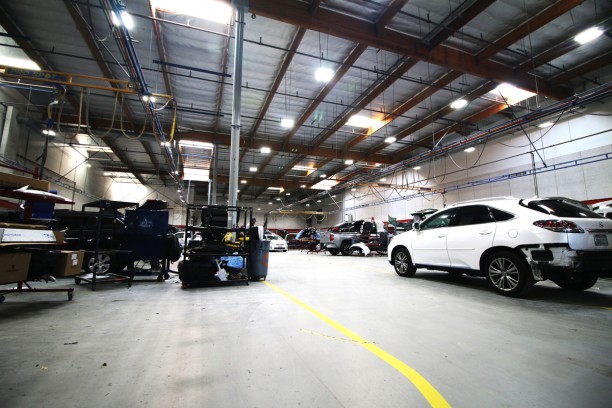 More than $1 million has been invested in the renovated facility and specialized equipment
Q: How do you ensure your customers are comfortable while waiting for their vehicles to be repaired?
A: We designed a waiting area with our customers in mind. We have Wi-Fi, satellite TV, coffee, treats and a telephone. Onsite Toyota rentals are available through Toyota Rent a Car (TRAC) for their convenience and we happen to be located next to Hertz. A free shuttle service is provided free of charge and runs every hour to nearby shopping, the beach, LEGOLAND and the Coaster train, which are all located in our vicinity.
Q: How many certifications does the collision have?
A: We have many certifications on many levels, with not only Toyota and Lexus, being master certified in both realms, but I believe we're the only Lexus certified collision center in San Diego County, and the first Lexus LFA certified collision center in the country! We strive to be #1 in all facets of the automotive industry on all levels, and are very proud of our achievements. We win these awards because I feel we have the best owner in the country who is always willing to listen, provide us with support and the tools that we need to be the best we can be.
Q: What other awards has the facility received?
A: Toyota Carlsbad is one of the most award-winning dealerships in southern California. We have been the recipient of the Toyota Motor Sales "Collision Center Excellence" award from 2009-2016. The award recognizes the outstanding level of detail, craftsmanship and excellence that is at the foundation of the service we provide.
The dealership also received the prestigious Toyota President's Award, which is a very high honor and is only awarded to dealerships that demonstrate a commitment to maintaining Toyota's high standards for customer satisfaction.
Q: How does your shop get involved in the community?
A: We support our community in many ways, continuously giving back to local charities, groups, schools, our military and their families. Some of these include YMCA Camp Pendelton USMC, the Boys & Girls Clubs of Carlsbad, local high school athletics, food drives for the San Diego County Food Bank, and blood drives.
Q: What message would you like to share with your team?
A: I am very proud of my team and very thankful that they continue to choose me as their leader in this incredible adventure and am blessed to work with the best people in the industry. We are the champions—#1 in the nation for 2017!