He said there are advantages for all members of the collision repair ecosystem including consumers, body shops, insurers, OEMs, technicians, as well as the planet.

Polyvance, formerly Urethane Supply Company, was established in 1981 to provide plastic repair and refinishing products for the collision repair industry. During the 1980s, the business pioneered a repair method for polyurethane bumpers. Lammon and his brother Keith took over the company from its founder, Jim Sparks, in 1995. Some of the products they have created since then for bumper repair and refinishing include the FiberFlex universal welding rod, Bumper & Cladding Coat Adhesion Primer, and the Nitro Fuzer nitrogen welding system, introduced in 2006.

Although most think people think of bumpers when it comes to plastic repairs, Lammon said there are many other non-structural plastic parts that can be fixed, such as washer and overflow bottles, headlight tabs and fenders. "As the OEMs try to get the cars to be lighter, we're going to see more plastic panels I believe," said Lammon.

He cited a case study he found on LinkedIn about a body shop in Australia that began doing plastic repair after receiving the necessary training, equipment and materials. Over a one-year period, the company repaired more than 1,500 vehicles using plastic repair methods; 71 percent of which were bumpers and 19 percent were headlights. The company found that the replacement part costs went down by 45 percent. There were also reductions in vehicle repair costs, paint materials and cycle time. "There is some real impact that happens in the shops when they take plastic repair to heart," said Lammon.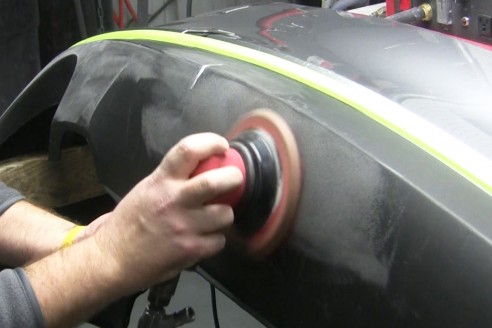 In addition to repairing bumpers, plastic repair methods can be used on other non-structural car parts.

Benefits for the Collision Repair Ecosystem:

Consumers
When a body shop utilizes plastic repair on a vehicle, it not only allows for a faster cycle time, the customer is able to keep the original bumper, which helps protects the brand. Lammon said plastic repair lowers repair costs, which can lead to more affordable insurance premiums and lower costs in general if a consumer is paying to repair a vehicle out-of-pocket. All of these help with customer satisfaction. In addition, plastic repair reduces incidents of total loss. "When consumers experience a total loss, they are often dissatisfied and would like to keep that car on the road," said Lammon. "If we can repair some plastic and keep it under the total-loss threshold, it would be a benefit to the consumer."
Body Shops
In terms of cycle time, it's not only beneficial for the consumer but obviously for the body shop as well. Lammon said a faster cycle time means that vehicles spend less time in the shop, which expands a business's capacity to do other work. Because plastic repair can decrease the number of total losses, shops can minimize paying the costs of storage, estimations, and labor that is not reimbursed. It also helps reduce severity and time, as well as looks favorable on a body shop's DRP scorecard.
Lammon pointed out that body shops make their money on labor, rather than parts. Typically, a shop can make 20 to 25 percent on parts, whereas in terms of labor, they can make 50 or even 60 percent on their time. "It's definitely better to repair parts to make a higher profit margin," he said. Keeping the original part on the vehicle is beneficial for fit issues as well as the labor hours involved.

"A big thing now is being able to maintain control," said Lammon. He used the example of bumpers, which cannot always be repaired, especially over blind spot monitors. If the technician knows that the blind spot monitor is on the rear quarter behind the bumper, he or she is going to avoid doing any repairs over that area, whereas he said if they bought a recycled bumper, they would have no idea where the repairs were. "That gives the body shop control and I think that's a really big factor nowadays," said Lammon.
Insurers
Two of the main benefits for insurers include reduction of severity due to the ability to blend the paint in the panel, and faster cycle time, which benefits all parties because it's a shorter length of rental for the insurer. "I would think because the consumer is having a better experience with a shorter cycle time, that would also benefit the CSI score," said Lammon. He said if consumers have a negative experience with a repair, they may switch insurance companies. "The happier the consumer, the more likely they are going to stay with that insurer after the repair is done," said Lammon. Another benefit he pointed out is reduced diminished value. Some bumpers now have VIN codes and he said that keeping that intact is also something of value.
OEMs
Lammon said that a faster cycle time as a result of plastic repair benefits everybody. When consumers have had a good experience, the more likely they are going to be satisfied with the OEM as well. "More often than not, in a total loss situation, consumers will switch brands of vehicles so that's a stream of future cashflows that the OEMs are going to lose on repairs and maintenance," he said.
Polyvance has been approached by Tesla about using plastic repair on its vehicles. Lammon said that the automotive manufacturer is informing its approved body shops to repair some of the plastic parts on the vehicles because parts availability is such a problem. "Even a temporary repair gets the cars back on the road faster and improves customer satisfaction," he said.
Technicians
When it comes to technicians, Lammon said he has found plastic repair has helped with job satisfaction and pride in workmanship. "Right now, the body shops are in such a dire need for new talent coming in," he said. Since the parts repaired are non-structural, he said it provides a good first step to becoming a skilled repairer and can put them on a path to increase their skills. In addition, it gives them an opportunity for increased pay, which leads to a better standard of living. "It also allows the shop owner to evaluate the performance of the technician in a low-risk environment and if a person exceeds or excels, the shop owner can progress that person along to being a structural technician."
Planet
One of the main benefits for the planet is reducing landfill waste. By keeping the original part on the vehicle, it reduces recycling volume. Although polyurethane bumpers are not very common, Lammon said those types of plastics cannot be recycled. Instead, they have to be discarded. He estimated that approximately 70 percent of damaged polypropylene bumpers are not being repaired. Due to the ability to blend the paint to the panel, it reduces VOC emissions, which is good for the planet. Finally, he said it also helps create skilled labor jobs and employ a younger workforce.
This information was based on a presentation by Kurt Lammon during a recent Guild 21 webinar.
For more information about plastic repair, visit www.polyvance.com or contact Polyvance at 800-633-3047.