The president of ASA Colorado's collision division said that joining an association and/or advisory council offers many benefits for shop owners.
Dan literally grew up in the auto body business. As a young boy, he recalls sweeping floors in his grandfather's body shop in Englewood, Colorado. His two uncles also owned body shops and his father was repairing cars out of his home garage. Sometimes, 20 BMWs would be lined up in front of the house waiting to be repaired. After working with another shop owner for a brief time, his father Jerry opened his own shop in February 1983—Jerry Stander's Auto Body—with the help of his mother, Bernie.
Except for a few side jobs, Dan has always worked at his parent's body shop. In 2006, the independent facility became part of the Fix Auto network and now draws on the support of 437 collision repair franchises. Dan is currently the operations manager at the family-run business, which includes 15 employees, including Bernie who focuses on the accounting, bookkeeping, training and administrative duties. His father comes in every day working on car restoration, soap box derby, maintenance on the building and even some gunsmithing.
Q: Can you tell us about the encouragement and support your parents have provided?
A: My parents were really involved in the industry, ASA, education and training. They encouraged us to surround ourselves with people who would assist us, give us ideas, train us and help us do a better job faster, versus reinventing the wheel. Many times, people have a hard time asking for help. The philosophy that my parents shared with me is that it's ok to ask for help.
My father and I get along really well and we have a very similar vision about running the company. However, we often look at things from different angles because of our generational differences. It's old school versus new school—training from the past versus today's training. He has instilled in me the right way. My father has completed a lot of industry training, including being I-CAR Platinum. At times, with my industry involvement I have learned about new OEM repair requirements that are ahead of other training we have all taken in the past. As we know, times change, cars are changing and repair procedures are changing dramatically. We cannot always repair cars the same way we did even five years ago.
Q: Can you tell us how you became involved in ASA and the importance of joining an association?
A: I joined ASA Colorado in 2004. I had created a flyer to explain an industry refinish problem. Zone refinish, base coat reduction and partial panel refinish have been hot industry topics for many years. It is a double win for insurance companies and a double loss for auto body shops. Paint labor and paint material reductions done with a simple one line adjustment are more prevalent in some markets than others. I wanted an easy way for shops to explain to insurance adjusters and even their internal shop staff all of the additional labor and materials involved in a repaired panel versus a new panel versus a blend panel. Everyone told me that the flyers wouldn't make a difference, but I handed them out anyway. Soon, they spread across the country. I was hoping that it would help the industry. The flyer was well received and I decided to join ASA's collision operations committee in 2005 to help get the word out even more.
When I became more involved in ASA on the national level, I began learning from the great ASA staff, industry partners, vendors and veterans such as Darrel Amberson, Mike Anderson, Dan Bailey, Scott Benavidez, Jerry Burns, April Hernandez, Ron Nagy and Roy Schnepper. They are great people and have now become friends. I have learned how to deal with many different situations after hearing about their experiences.
I have also been part of the operations committee and government affairs committee with ASA national. Again, the power of learning from others.
Q: What is your involvement at the local level with ASA Colorado?
A: Currently, I am the president of ASA Colorado's collision division. ASA Colorado is very strong on the mechanical side. I'm usually one of the only collision guys who shows up at the meetings. There are a lot of collision-related mechanical issues we have to deal with at the shop. Granted, we don't do maintenance, but there are a lot of different repair matters to learn from the mechanical folks at ASA Colorado that I apply to our business.
The issues ASA Colorado is currently focusing on include promoting hands-on training and finding ways to help the industry to hopefully do a better job on the vehicles and for the consumers.
Q: As an independent shop, how has your business been able to survive with the consolidation taking place?
A: I remember when ABRA moved into town (approximately 20 years ago). In Colorado, the market was very pro-independent and nobody gave them much thought. But as we know now, they were and still are a game-changer.
I don't think there's anything spectacular or different about what ABRA and the other consolidators are doing inside their shops. It's what they are doing outside their shops. These consolidators are coming into the markets and taking a huge market share, buying up shops and building new shops.
Some shops think that they can't stay in business with those darn consolidators coming in. That is totally wrong. There are a ton of opportunities created by consolidation. Part of the opportunity is really knowing what is going on in the market with consolidation.
Q: What prompted the decision to become part of Fix Auto?


A: During this time, Fix Auto reached out to us to become a member. It was a really hard decision for us and we struggled with it. I talked to people who said it wasn't the right decision and others who said it was. I think it depends on a shop's own situation, what their issues are, the market trends and do they have a lot of consolidation in their area. For us, we realized that we have a lot of consolidation around us. The Denver Metro area was the first to have the Big Four in our market—ABRA, Caliber, Gerber and Service King. I think in order for our shop to survive, we have to play the game a lot differently because of the competition. Times change and they are continuously changing us.
We became part of Fix Auto about a decade ago and have found that it was the right decision for us. The company offers great information about what is going on in the industry. It's not always positive and I think that it is tough for a lot of people to hear. However, I think it helps us stay a little ahead of the curve to help make decisions that are part of the future versus being several years behind and then having to catch up.
As an independent owner with the corporate structure of Fix Auto, I think we can love our employees and love our consumers more, while running a successful business.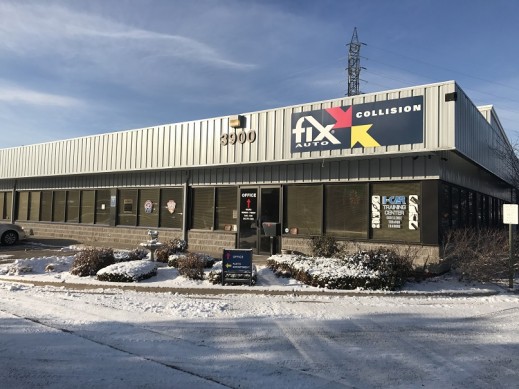 Fix Auto Highlands Ranch in Littleton, Colorado
Q: What is the benefit of getting involved in the industry and how can it help your business?

A: I always encourage shops to get involved with associations, advisory councils and networking opportunities. Whether it's getting involved with ASA, CIC or SCRS, I think industry associations are key and help you learn what's going on. I also recommend joining an advisory council. I've worked with various advisory councils over the years such as NACE and Fix Auto, and I found that it gives you the opportunity to learn from others in the industry. Twenty Groups offered through paint companies and other vendors also help you stay educated and up-to-date about new developments. All of these offer the best networking opportunities money cannot buy.
Read more about Dan Stander's story and how independent shops can survive in an environment of consolidation in The Secrets of America's Greatest Body Shops, written by Dave Luehr with Stacey Phillips, scheduled to be released in early 2017. For more information, visit www.bodyshopsecrets.com or email Dan.Stander@FixAuto.com, dluehr@bodyshopsecrets.com, or sphillips@bodyshopsecrets.com.