The family-operated company is currently owned by his son Stan and employs close to 400 at the dealership and 17 at the collision repair shop. The Tony Group Autoplex includes four stores: Honda, Nissan, Hyundai and Volkswagen, as well as a full-service car wash. Autobody News recently spoke to Sabrina Dela Rama, manager of Tony Group Collision Center, about the body shop, which is located in Waipahu.
Q: What is your role at the shop and what is it like operating in Hawaii?
A: I am the collision center manager and what can I say but that it's paradise! However, it's very expensive to live in Hawaii. Our cost of living is the highest in the nation but our pay is below average in the state. Our rates are determined by the billion-dollar insurance companies that control what and how much they will pay for a repair and the rates.
Many times, parts are on back order and they could take five to seven days to arrive. Sometimes, the humidity plays a factor in the curing of the paint. The land and space in Hawaii are also very expensive so we are always fighting for room or space, but mostly we find it challenging to try and survive in this insurance-run business.
Q: Is the body shop part of any DRP programs?
A: Being on a DRP program nowadays isn't what it used to be in the '90s. We used to be able to fix cars and still make a small profit; now it's fixing cars to break even. We have found that the insurance company's DRP has made it difficult to do a correct repair as they question every procedure.
We decided to get away from DRP relationships, but are currently part of two because they are very supportive of corrective repairs and they are fair when it comes to rates. Neither use aftermarket parts and one doesn't even use recycled parts. First Insurance Hawaii is one of the best ones I like working with; the staff is awesomely fair.
Although we live in paradise, we have the same issues with insurance companies suppressing rates by an invisible survey they project they have and limiting payments, the strong push of non-crash-tested aftermarket parts and steering. We want to change legislation and hopefully with all the media and support of the industry, our council members will see what the big billion-dollar companies are doing to hurt the consumers.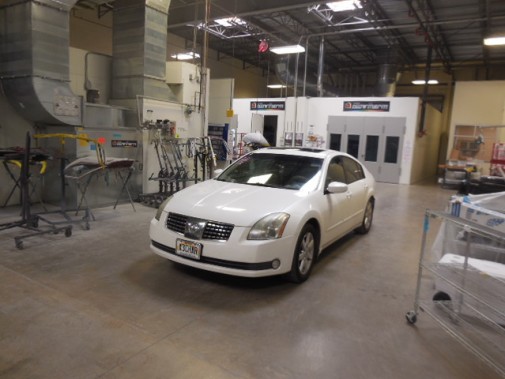 Sabrina Dela Rama, manager of Tony Group Collision Center, said the body shop prides itself on following the manufacturers' procedures when repairing every vehicle.
Q: Are you part of any associations?
A: I am the new 2017 president of the Automotive Paint and Body Association of Hawaii (ABPAH), which is the oldest active association in Hawaii. The mission of ABPAH is to provide our members with the tools and education necessary to attain a high level of expertise, allowing the growth and prosperity of our members. We are looking into legislation and hopefully, we can start to move the industry on the right path.
ABPAH recently received a certificate from Senator Mike Gabbard in December for being "dedicated to educating their members, providing professional results, and getting their customers back on the road in vehicles we can be proud of."
Q: How do you stay current with new technology and procedures?
A: It's a combination of researching, talking to our peers and other shops, manufacturers, ALLDATA and I-CAR. Billy Walkowiak and Larry Montanez have really helped educate me about this industry. Tim Ronak from AkzoNobel helps us with our goals and we have an upcoming seminar planned in Florida. Richard Doyle, the fix operations director for the Tony Group Autoplex who built our collision center, the carwash and the Hyundai store in Hawaii, and I fly out two times a year to attend classes and seminars for collision education. We learn what other dealership body shops are faced with and what challenges they have overcome. There's so much learning to do and it seems to be an ongoing process.
Tony Group Collison is a Honda Pro-First shop, and is also certified by Nissan, Hyundai and Chrysler.
Q: Congratulations on the recent awards the Tony Group has received for consumer satisfaction. What is the importance of excellent customer service?
A: Customer service is very important, as they are who we work for. We work hard to ensure a safe and corrective repair, to follow manufacturers' procedures and make sure every customer has a fair dealing with us and their carrier or the insurer.
Tony Group Collison is a Honda Pro-First shop, Nissan, Hyundai, and Chrysler certified collision center and I-CAR Gold class. We follow strict manufacturer procedures and we believe that customers' safety is our NUMBER 1 priority.
For more information, visit www.tonygroupautoplex.com or email Sabrina Dela Rama, manager of Tony Group Collision Center, at sdelarama@tonygroup.com.