Today the shop is run by Barry Jr. and his sister Michelle and employs 20 auto body technicians and mechanics. The facility has 22 bays and repairs more than 2,000 cars a year. Autobody News spoke to Barry Jr. about their unique approach to customer service.
Q: We noticed your shop is currently holding an online sweepstakes and giving away a Kymco scooter. Can you tell us about the contest and if you've had similar giveaways?
A: We decided to run the Kymco scooter giveaway as a way for our customers and the public to help us celebrate 30 successful years in the auto body industry. The scooter has a 49cc four-stroke engine and is a 90 MPG rating. It is lighter than most small motorcycles and easier to handle for beginners. There is no cost to enter the contest and we plan to announce the winner on January 1, 2017.
In the past, we ran an Apple Watch giveaway and we have also given away mini detailing packages through social media contests.
Q: What is the importance of reaching out to the community?
A: Giving back to the community is extremely important to us because it is our community who has helped us achieve success. We are board members of the Staten Island Chamber of Commerce, Staten Island Economic Development Corporation, Kiwanis and Free Masons. We participate in the Richmond County Fair, the Young Entrepreneurs Academy, Clean and Green Expo and various other community events.
Q: What are some of the eco-friendly initiatives you have employed at your shop and why it is so important?
A: I believe Barry's Auto Body is Staten Island's only eco-friendly body shop. We only use the BASF Glasurit 90 waterborne paint system for all of our jobs. We have recyclers for all solvent waste materials and thinners used. We also use only eco-friendly products for detailing.
Our pledge to use environmentally friendly products shows in everything we do. Not only are we committed to providing a quality product for our customers' vehicles, we're committed to the environment too.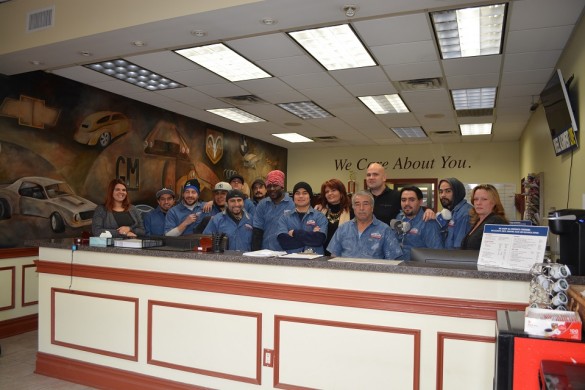 Run by Barry Jr. and his sister Michelle, the shop has 20 auto body technicians and mechanics.
Q: How do you use the Internet and social media in your business?
A: We share helpful tips on our website (barrysautobody.com) and social media (https://www.facebook.com/barrysautobody). Visitors can read about topics such as: how to set up an insurance claim; how to clean, wax and detail your car or SUV; what to look for when buying a new car; and what to check for if you had your car repaired at another shop but feel it might not have been done properly.
Q: Can you tell us about the Donna and Vito YouTube videos you've filmed?
A: Recognizing that many people prefer videos to reading, we filmed a series of videos that demonstrate the automotive tips provided in our blogs. The videos were so successful that we decided to create a comedic series of videos about a husband and wife who find themselves in need of various auto repair and services we provide. The reaction to the video has been great and people are anxiously awaiting the next videos in the series, which we will release over time. We have planned to release a total of four videos but we may decide to add more.
Q: What changes have you seen over the 30 years you have been in business and how have you adapted and grown over the years?
A: Over the years, the auto body industry has moved away from a customer-focused industry to one that exists to serve the insurance companies. The reason for the change is because insurance companies have adopted the practice of anointing body shops as direct repair shops (DRPs). I feel when they negotiate the price for repairs ahead of time in exchange for referrals, it results in the repair shop becoming more focused on volume than it is on performing quality of work.
We have also seen advances in technology needed to repair vehicles properly. The new technology is costly but necessary and includes welders, paint booth equipment, electrical scanners, frame machine equipment, etc. In order to stay ahead of our competition, we provide our employees with specialized, repair-focused training.
Our company philosophy is to solely focus on customer satisfaction, which includes creating a clean, comfortable atmosphere in both our waiting room and our service areas; providing on-site Enterprise rental vehicles; and assisting customers as they file their insurance claim from start to finish. Our focus is on the customer—not the insurance company.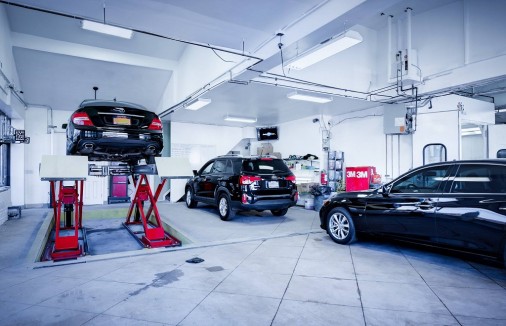 The facility has 22 bays and repairs more than 2,000 cars a year.
Q: What do you attribute your success to?
A: We believe that it is our attention to detail and our customer-only focus that has helped us achieve longevity and success.
We understand that the majority of our customers come to us as a result of an accident. Usually, they are shaken up and worried about how much the repair is going to cost, how long they will be without their vehicle and whether or not their vehicle will be fixed properly.
In order to give our customers peace of mind, we post our prices on our website and in our shop; we help our customers file their insurance claim; we keep Enterprise rental cars on site for their convenience and we provide a written warranty on all the work we do.
For more information about Barry's Auto Body, visit www.barrysautobody.com. Details about the Kymco giveaway are posted here and the YouTube videos can be found here.