Based in Scotia, New York, Mohawk Honda is an Elite President's award winner and one of the top Honda dealers in the country for volume. Rosenbarker recently had the opportunity to help design and set up a 23,666 square foot state-of-the-art collision repair facility located near the dealership. Autobody News spoke to Rosenbarker about the new facility and what makes it so successful.
Q: Congratulations on the opening of the new collision repair facility this past December. Can you tell us what prompted the move?

A: Our old facility had 13 stalls, one booth, and only one door. The building was 80 years old. It used to house our dealership and then we had an opportunity to move the dealership about six years ago. The company purchased a new property and built a state-of-the-art facility. Meanwhile, the collision center stayed in the old facility until recently.
Meanwhile, our prior collision manager had left the company and I took over that position. I reassembled the team and we started building up the collision repair shop. We changed quite a few things, came up with some standard operating procedures (SOPs) and started operating differently.
Q: How have operations changed, and what has the benefit been?

A: We basically changed everything that was the old broken way of doing things. The shop had been operating like it was in the 1970s rather than the 2000s. A lot of it was putting the right people in the right places and just coming into it with a fresh look at things. We stepped back to figure out where we were broken the most and we started working on fixing those problems.
We would take everything possible on the spot. Anything that came into the door that we could close right then, we would put the customer in a rental car and lock the car down. We didn't give them the opportunity to go to two or three other shops that might at that point in time have had better customer service than we did. Our service department was solid, but our customer service wasn't up to par in the collision center.
We always had a good reputation for quality work, but without the service to back it up and without the follow through from management, it didn't make any difference.
Q: When you were designing the new facility, what were the most important components you wanted to include?

A: The single most important thing we built in was the proper flow. In our old facility, it was very difficult to get cars from one end of the shop to the other without moving four or five cars first. When we were planning the new facility, we started with a clean sheet of paper and we built a proper flow in the building. Everything moves from one end all the way around in a horseshoe throughout the building. Cars are constantly moving in a racetrack pattern and we never go backward. We now have seven doors that we can use to get in and out of the facility.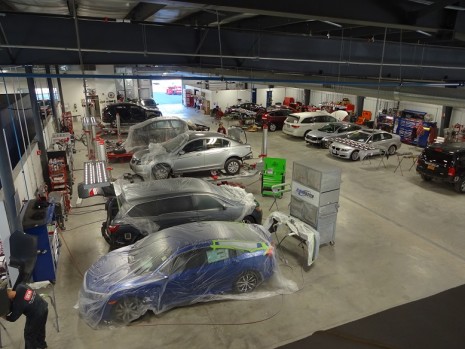 The heavy and light body shop floor in the Mohawk Honda collision center

Q: What was the result of focusing on good customer service and raising the quality of expectations at your business?

A: We are fortunate enough to have a very dealer-loyal product. Ninety-five percent of the time, Honda customers go back to the dealership. That gives us an edge. However, we want to keep those customers from going other places.
It actually worked so well it overwhelmed us early on. I couldn't hire people quickly enough to handle the amount of work. We went from a shop that was in a situation where we had slow weeks, then busy weeks--the standard peak and valleys that you see in the industry--to being a shop that was consistently booked six weeks out.
In the past, our closure rate was about 27 percent. Within six months of our new SOPs, we built that up to about an 80 percent closure rate on customers that we were writing estimates for.
Q: What other types of changes did you implement in your shop and with your technicians?

A: I am a big proponent of training. Our technicians are all I-CAR gold trained now and we are a Honda ProFirst certified body shop. We work with AXALTA and all of our painters go to AXALTA paint schools. All of our management staff and estimators go to AXALTA's repair planning with Mike Anderson.
I'm sure you've heard that if you change too many things at once, you are going to fail. We changed everything! We should have failed so miserably. But I had a core set of guys, brought in new employees and we took that facility six years ago and went from five employees and an average of $50,000 a month in total sales to 13 employees and about $225,000 a month in total sales when we left that facility.
Before we moved, we had to shuttle things back and forth from the dealership where the customers dropped off their vehicles. We went from doing a standard wash of the car to a full detail. We tried to give the car a facelift. It is pricey to do that, but I thought it made more sense to do that than to put billboards up all over the place. We already had the customers; we simply had to make sure those customers kept coming back and spread the word to their friends and family about the great experience they had at Mohawk Honda.
Now at the new facility with one DRP, we are operating with 23 employees and averaging $375,000 to $400,000 a month. The shop is always full and we don't suffer the peaks and valleys that most facilities do. It has been phenomenal.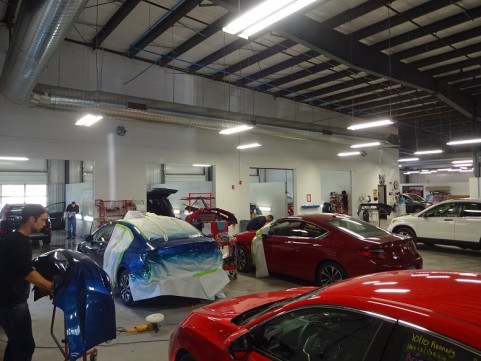 Reassembly and detail area in Mohawk Honda's collision repair shop