Randy Bobzien, automotive product manager at Lincoln Tech, said that to help meet this demand the school is assisting students build career skills while working with employers to find the best candidates for their body shops.
"One of the biggest challenges facing many employers is finding ways to overcome the skills gap—-the gap between the skills they need in their workforce and the abilities of job applicants," said Bobzien. "We want to educate employers and students alike that with the right training, that skills gap can be overcome."
Lincoln Tech began offering collision repair and refinishing training at its Nashville, TN, campus in 1940. The technical school has grown over the years and a collision repair program is now available at five of its 29 campuses across the United States. In addition to the Tennessee location, the collision repair program is offered in Denver, Colorado; East Windsor, Connecticut; Indianapolis, Indiana; and Melrose Park, Illinois.
Lincoln Tech's curriculum is based on I-CAR standards and students are taught by ASE-certified instructors. The diploma program takes approximately one year to complete but varies by schedule and curriculum. It includes hands-on training using diagnostic equipment, estimating costs, straightening frames and refinishing paint jobs and students have the opportunity to learn a wide variety of skills including dent repair, airbrushing, welding and feather edging.
Bobzien said the various campuses work closely with body shops to best determine their hiring needs. He said this benefits students and managers alike. "Our students receive professional development and 'soft skills' training such as communication and time management, while they're building hands-on collision repair skills," said Bobzien. "Employers know Lincoln Tech grads are real professionals and will be valuable additions to their workforce." His advice to body shops considering hiring students is to look for those who have trained at schools with a proven track record and with the right certifications.
Students at the technical school also have the opportunity to put their artistic skills to use rebuilding and then refinishing vehicles.
For example, to celebrate the release of Star Wars: The Force Awakens in December 2015, collision repair students at the Melrose Park campus recreated a galaxy far, far away on the hood of a refurbished 1995 Pontiac Grand Am.

Meanwhile, at the East Windsor campus, students rebuilt two damaged cars and turned them into two superhero tributes-on-wheels--Batman and Superman.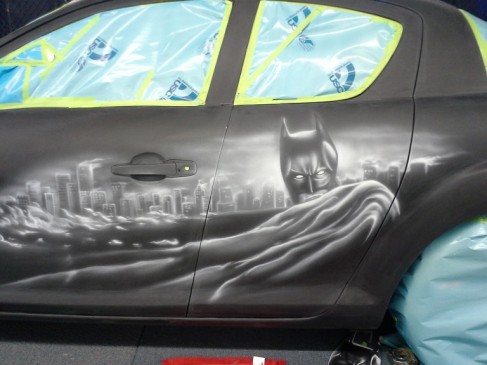 "Today's collision repair field is finding a broader appeal with people who are into art and design as much as they are into cars and auto body work," said Bobzien. "We've also seen increasing interest among female students for training in this field." Currently, there are 469 students enrolled for collision repair training around the country; 415 graduated last year.
Tommy Curtis, a former student of the technical college in 1984-85, has taught at Lincoln Tech in Nashville since 1990. "As a young adult I could not have made a better career choice than attending the Lincoln Tech Collision Repair and Refinishing program," he said. "The program gave me the fundamentals and the training to go into the business and be successful from the very first day. Looking back over my career for the past 35 years, everything positive in my profession started with Lincoln Tech."
Curtis is one of the many instructors around the country who are helping these students train for future jobs in the industry. Bobzien, who oversees all of Lincoln Tech's automotive programs nationwide, sees that future as wide open for graduates.
"At Lincoln Tech, we're in regular contact with employer partners as well as respected industry professionals who serve on our advisory boards," he said. "We're able to make sure our students are always learning the skills most important to today's collision repair employers, and we're proud to help hundreds of students overcome the skills gap in this field every year."