Today's Collision
Malden, MA; Chelsea, MA
781-321-6080
www.TodaysCollision.com

Type: Collision Repair
Number of Employees: 55
In Business Since: 1989
Number of Locations: Two

DRP Programs: Three
Combined Production Space: 25,000 square feet
Today's Collision stands out from the competition because of the emphasis they place on customer service. According to Cobb, "Today's Collision makes customer service a priority. Our emphasis on customer satisfaction begins with the first customer interaction on the phone or when they enter the shop. This focus then continues through all aspects of the repair process: estimation, parts ordering, body work, paint department and detail department. When the customer picks up their car, they are given the same attentive service. Since every employee at Today's is aware that they are to view their work through the eye of the customer, the end product shows this focus. After the vehicle is repaired, we ask the customer to rate our work and service and write a review of our company. This gives us the opportunity to correct any service issues that may have occurred during the repair process and ensure that the customer is completely satisfied."
Cobb believes that customer service is a vital component of any successful business, and he appreciates vendors and suppliers who offer him the same customer service experience he provides his clients. Fifteen years ago, Today's Collision started using Axalta's Standox® paint line, which Cobb refers to as "a high-quality product and very user-friendly."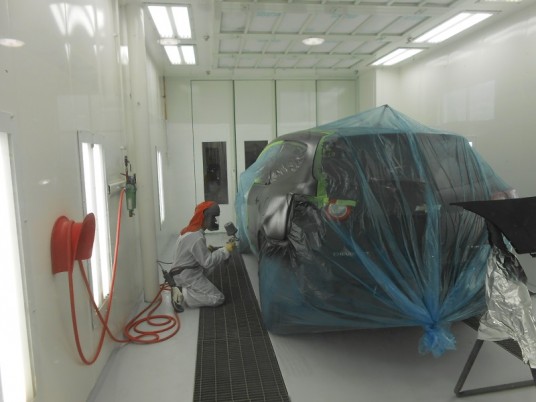 Today's Collision's productivity and profitability have seen significant improvements as a result of using Standox paints by Axalta Coating Systems.
In regard to Axalta's customer service, Cobb noted, "Our company's productivity and profitability has been greatly impacted by Axalta's customer service teams. As an MSO, Today's Collision is given a layered team of representatives to help provide our company with needed training and advice. This group works with us on a continuous basis to ensure we have the latest industry knowledge and are applying the best known strategies to our business... they have been our business partner for many years and are a great company to work with. This great fit, coupled with the great product, makes our paint supply decision an easy one."
Cobb also praises Axalta's Standox paints for their excellent color-matching abilities. "The product works well for us, especially when we are working on high-end, European-made vehicles," he stated. "We are able to match OEM colors easily. Many of our business partners are high-end dealerships that do not have their own body shops. Having the ability to fulfill the needs of this market segment keeps Today's Collision as the go-to shop in the area."
Today's Collision includes two shops with a combined production space of 25,000 square feet, and participating in three DRPs, the shops' 55 employees repair an average of 300 vehicles each month with $11 million in annual sales. In addition to collision repair services, the shops also offer paintless dent repair, glass repair and mechanical services. Today's Collision is I-CAR Gold certified and the shops are certified through Honda and Acura's ProFirst program as well. Some of their technicians are individually OEM-certified, and Cobb is in the process of adding several new OEM certifications to their repertoire.
Customer service is the key to success for Today's Collision.
Cobb and Kyes' shops are also certified through Axalta. Cobb noted, "Our employees love working with Axalta products. Painters are very partial to a specific brand of paint, so ours will always want to stay with this product. Axalta interacts with our employees to make sure they have the knowledge they need when using the product. Axalta paint has always been consistent throughout the years. We are able to use the same product in different environments. We have always had such a high customer satisfaction rating; it's reassuring to know that the end customer is also pleased with the product."
Today's Collision takes being environmentally responsible seriously. They installed LED lights, recycle paint waste and plan to convert to a waterborne system by the end of the year. When they do, Axalta has several waterborne options to fit their needs, including Standox Standoblue®.
Community involvement is also an important component of the shop's identity. "Giving back to the community has become part of the Corporate Culture at Today's Collision. We are actively involved with many charities, including Journey Forward, Celebrities for Charity, The Greg Hill Foundation, Massachusetts Fallen Heroes and local schools and organizations," Cobb explained. "One of the more recent additions to our community involvement is our participation in the National Auto Body Council's Recycled Rides Program. Today's Collision repairs the vehicle with help and donations from suppliers, such as Axalta, and donates the car to a family or person in need. Our last three donated vehicles were donated to veterans and a gold star wife through our relationship with Massachusetts Fallen Heroes."
---
Axalta Coating Systems
Company Contact: Heidi Stilwell
(610) 358-5353
---
To read more auto body shop profiles from the June 2017 Shop & Product Showcase, click here.