Church Brothers Collision Repair
Indianapolis, IN
(877) 972-4872
www.church-brothers.com
Type: Collision Repair
Facility Employees: 163
In Business Since: 1929
Number of Locations: Six
DRP Programs: Ten
Combined Production Space: 100,000 square feet

"We have a culture of being a family and that's the way we want to keep it," said Ted McClintic, the president of Church Brothers since 2002. "Our goal is two-fold: take good care of customers and repair their cars correctly."
McClintic estimates the privately-held MSO repairs about 10,500 cars a year. With that volume of vehicles coming through their shops, it is especially important to have the latest and best technology, such as the Pro Spot i5 Smart Welders that they have used for the last year.
In 2015, the company began working toward becoming ProFirst Certified with Honda. "Honda opened our eyes to all of the changes that are happening in the industry and all the things we need to do differently when repairing cars," said McClintic, who has worked at the company for 25 years.
Church Brothers found that their current equipment didn't meet some of Honda's specifications to repair vehicles, so they began researching other options. In addition to conducting research over the Internet, they set up demos to find out which welders on the market met Honda's requirements as well as what would be a good fit for their technicians. "The equipment is only as good as what the technicians are willing to use," said Greg Gambrel, manager of technical processes and equipment.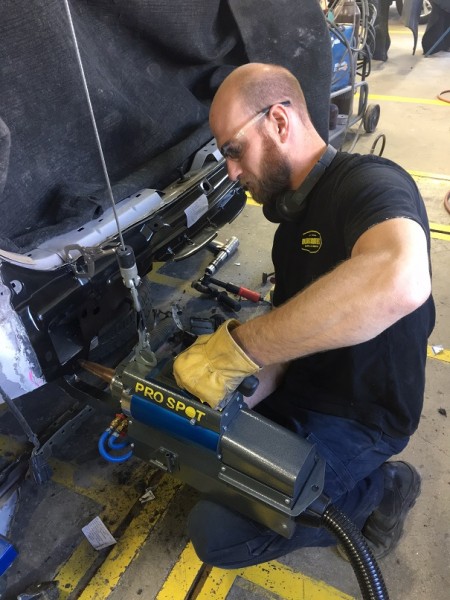 Allen Haulk, a metal/frame technician at the Church Brothers Castleton location, installing a rear body panel with the Pro Spot welder.
Gambrel began working for Church Brothers in 1985 as a technician. In 1997, he left the company and became a high school career technical teacher. He also had a seat on the I-CAR Education Foundation board. After a decade, he returned to work at Church Brothers and said he currently helps drive the change of continuous learning at the company. "With the tsunami of change we are dealing with on vehicles, it's important to keep our technicians aware of advances and changes in the industry," said Gambrel.
As an I-CAR instructor, Gambrel was already familiar with Pro Spot welders, which are often used in I-CAR classes. "We were impressed with the Pro Spot demo," said Gambrel. "The i5 Smart Welder was easy to use and the technicians were in favor of purchasing it."
Gambrel said one of the main concerns buying new equipment was if the process was updatable so they wouldn't find themselves in a position of owning equipment that wasn't relevant with the introduction of new vehicles and materials.
"Because we were going to make a big investment with six stores, we wanted to make sure we were getting our money's worth out of the equipment," he said.
Gambrel said they were they were very impressed with Pro Spot's products and Church Brothers purchased six i5 Smart Welders for each of their locations. "Dollar for dollar, we found there was nothing else on the market available that was comparable to the i5," he said.
Gambrel worked with the Pro Spot rep, Bill Montville, owner of Collision Correction in Hilliard, Ohio, to train the technicians. "He must be Superman, because whenever we have an issue or questions, he's Johnny-on-the-spot," said Gambrel. "He is always here helping us."
Church Brothers purchased six i5 Pro Spot Smart Welders for each of their body shop locations.
Pro Spot manufactures all their resistance spot welding equipment in the United States out of their Carlsbad, CA, headquarters. Established in 1986, the company owns an onsite machine shop, a research and development department, a fabrication facility and production lines for the various welders.
"We would absolutely recommend Pro Spot equipment," said Gambrel. "It's user-friendly and there is no question about the quality of the weld on the vehicles."
"When that piece of equipment is used, it gives everyone the confidence that we're fixing cars correctly," added McClintic.

One feature that sets the i5 apart from other welders is the ability for technicians to access OEM requirements within the system. Not only does this help improve cycle time, but McClintic said it is important when repairing vehicles so technicians can identify what needs to be done on every single car they are welding.
The i5 also allows technicians to print out documentation about the number of welds done on every vehicle. This enables the shops to track usage of the equipment constantly.
When they aren't repairing vehicles, giving back to the community is also an important priority for Church Brothers. Throughout the year, the company supports numerous organizations such as the Concord Center, The Gary Dudley Memorial Scholarship Foundation, ICAN, Wish for Heroes and many others.
"Church Brothers has been blessed over the years with thousands of loyal collision repair customers who have trusted us," said McClintic. "I feel like it's our responsibility to give back in some way." Whether that's through repairing cars properly with equipment such as the Pro Spot i5 welders or donating time and money for fundraising events, he said Church Brothers Collision Repair is committed to helping its customers and the community.
---
Pro Spot
5932 Sea Otter Place
Carlsbad, CA 92010
(877) PRO-SPOT
prospot.com
http://prospotwelding.blogspot.com
---
To read more auto body shop profiles from the June 2017 Shop & Product Showcase, click here.