Tasca Collision Center
Cranston, RI
(401) 681-1296
www.tascacollision.com
Type: Collision Repair
Facility Employees: 15
In Business Since: 1972
Number of Locations: Three
Largest Production Space: 45,000 square feet


Tasca Automotive Group was founded in 1943 by Bob Tasca, Sr. In 1953, Bob Sr. opened the original Tasca Ford in Bristol, RI. Just one year later, this dealership was destroyed by Hurricane Carol. They relocated and ultimately opened up the new Tasca Ford at 777 Taunton Avenue in East Providence, RI. It was here that Bob Sr. and his team became the second largest Ford dealership in the world in the 1960's. This was also the birthplace of the Tasca Racing program and many historic muscle cars such as the Ford Cobra Jet, Tasca Street Boss, and Mystery race cars.
The Tasca family opened their first body shop in 1972 in Seekonk, MA. They now own three body shops--two in Rhode Island and one in Connecticut--and multiple dealerships that span southern New England. Their main shop, Tasca Collision Center, a 20,000 square foot facility with 15 employees, is located in Cranston, RI.

"People in our market trust Tasca; there's a powerful association with the name," said Tasca. "We're a good place to go to, and when mistakes happen, as they inevitably do, we acknowledge them and always do the right thing for the customer."
Tasca Collision Center effectively uses social media to reach customers. "We have a Facebook page for every dealership where we promote our body shops as well," Tasca explained. He added that they utilize a pay per click campaign that drives traffic to the body shop's website. They also value DealerRater.com over Yelp as a source of traffic. "We've been named Dealer of the Year on DealerRater.com for the past eight years," Tasca said.
Along with great customer service, the aluminum-certified shop prides itself on being "environmentally conscious," especially when it comes to paint. They use the Envirobase® High Performance waterborne basecoat system from PPG.
"We've been using PPG waterborne paint products for so long, I can't even remember when we started," said Tasca. "They've been a tremendous partner every step of the way by helping us plan the layouts for our expansion, helping us to understand new technology in the paint industry, and helping us get certifications for I-CAR standards."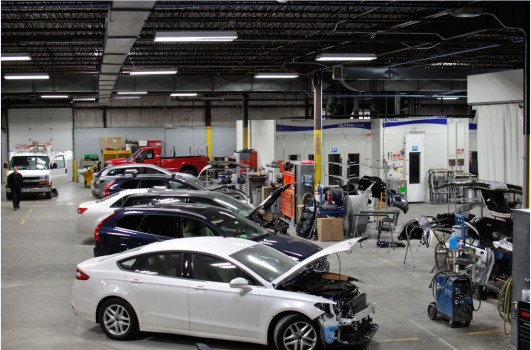 The 20,000 square foot interior of Tasca Collision Center in Cranston.
Tasca Collision Center uses the full PPG line on everything from used cars to luxury vehicles.
"As our business has grown, PPG has adapted and worked with us on a multitude of fronts," the shop owner added. "I've been thrilled with the relationship over the years."
Tasca said that "finding experienced and skilled body technicians is more challenging than finding good service technicians."
"We use a variety of methods [to find technicians]; word of mouth, growing people from within--which we work hard on doing--and reaching out to technical schools, but it still seems to be getting more and more difficult to find good employees," the shop owner said.
As for his concerns for the industry as whole, Bob said he predicts an increase in consolidation that could impede on the productivity of smaller, family-owned shops.
"When you have autonomous cars and all of this new collision avoidance technology, there's no question the marketplace is going to consolidate," he said. "The big shops will get bigger and the small shops will be absorbed by other companies. The fewer accidents, the fewer body shops. However, accidents caused by texting and other distractions have increased, but that's even more of a reason to make the shift to autonomous vehicles," he explained.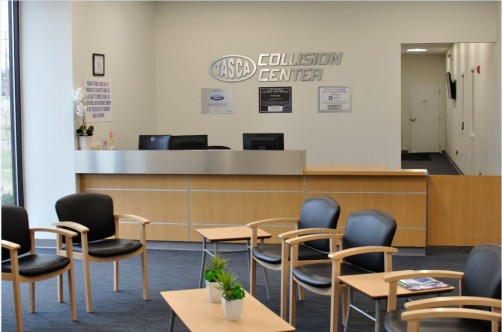 Tasca Collision Center provides a spacious and clean waiting room for customers to lounge in while their vehicles are being repaired.
Tasca advises those in Rhode Island who are looking to enter the collision repair business to buy up a shop that is already established. "It would be tough to start from scratch in today's economy," he said.
Tasca Collision Center is a member of the Rhode Island Auto Body Association. "At the meetings, members discuss DRPs, body shop rates, labor rates, and regulatory actions coming through," Tasca explained. "Rhode Island had a big movement toward classifying shops in either category 'A' or 'B.' A shops adhere to a higher standard, such as I-CAR and aluminum certifications, as well as providing separate waiting areas and bathroom areas for customers."
The goal of the certification is to get a higher hourly rate for shops that have invested more in their business, which Tasca Collision Center definitely has.
Bob Tasca Sr. opened Tasca Lincoln Mercury (TLM) in Seekonk, MA, in 1972. TLM became the highest volume Lincoln Mercury dealership in the world in 1986, which repeated again in 1987 and 1988 while also winning the Ford President's Award for outstanding customer satisfaction. This fulfilled his dream of claiming "None Bigger, None Better." It was also at the Seekonk store that Bob Sr. launched the innovative Pre-Trade program, pioneering the concept of short term trade cycles and leasing. He was also joined in the business by his three sons, thus fulfilling another of his dreams to build a successful family business.


---
PPG Automotive Refinish
19699 Progress Drive
Stongsville, OH 44149
(800) 647-6050
www.ppgrefinish.com

---
To read more auto body shop profiles from the June 2017 Shop & Product Showcase, click here.