Kuzin's Kustom Body & Paint
Polonia, WI
(715) 592-4707
www.kuzinskustom.com
Type: Collision and Car Restoration
Facility Employees: 6
In Business Since: 1991
Number of Locations: 1
Combined Production Space: 9,000 square feet
If you ask Stull what his interests are, he will mention things like award-winning car restorations, snowmobile racing and his fascination with with Elvis Presley, among others. Another item on his preferred list would include the paint he relies on every day: Matrix's MPB-LV Low VOC Basecoat.
From a 1931 Model A to a 1948 Tucker and with a plethora of amazing, classic cars in between, Kuzin's has done more than 500 full car restorations over the years. He has won a wide range of prestigious awards for his restorations, but he is always looking for that next dream project.
It all began more than 25 years ago when Stull made the leap to start his own shop. "My cousin Roger Clark was already in the business, so we started a partnership and named it Kuzin's Kustom Body & Paint," he said. "After one year, he decided to change his career, so I bought him out, but that's how we came up with the name Kuzin's."
Stull couldn't wait to get into the restoration game as a youngster. "When I was 13, I went from building model cars to wanting my own car," he said. "So one day I walked up to my dad and asked him, 'Can I get an all-black 1968 Chevy Impala Super Sport?' and I was surprised when he said, 'Yes.' I couldn't drive it yet, of course, but my father and I started working on it and it became a father-son project."
A family friend owned a body shop, and one day he offered Stull a part-time job cleaning cars and sweeping floors with an eye on learning how to paint along the way. "I always wanted to paint that black Impala blue, so one day the shop owner I was working for let me bring it in for paint," Stull said. "He helped me do the body work and prime it and then made sure I did all the sanding. He did most of the painting, but I did get to do some of it and that was the moment when I got hooked!"

Kuzin's Kustom Body & Paint was honored when one of Stull's showstopping vehicles was featured in the 2017 Matrix Award Winning Finishes Calendar.


After working for several area shops, attending a local tech school to learn the mechanical side of fixing cars and learning as much as he possibly could, Stull finally decided to take a huge leap and start his own shop at the age of 21. "I figured I was young enough at that point that if it didn't work, at least I had enough time to recover," he said. "Now we've been here 25 years."
By doing a lot of both crash repair and restoration work, Stull paints everything with Matrix's MPB-LV Low VOC Basecoat, a product he switched to back in August of 2015. "We had been with another brand for 20 years and they changed their formula a while back and the clears just weren't working well for us anymore. It was a different paint than what we had before, so we started looking around."
Eventually, Stull became familiar with the Matrix brand by watching Counting Cars, a popular reality series in which they use the product. "I saw all of this pin-striping work and candy work and I thought, 'If they are doing all of this custom work and Matrix is performing that well for them, why can't I use it, too?'"
The conversion process to the Matrix's MPB-LV Low VOC Basecoat System was fast and seamless and Stull hasn't doubted the switchover for a millisecond. "The Matrix reps came here and they treated me exceptionally well. They gave me some paint and I painted my own truck with the Low VOC and did some pin-striping and I knew from that moment on that I loved this paint. There was no peeling and it looked great--'Wow, this is awesome,' I thought!"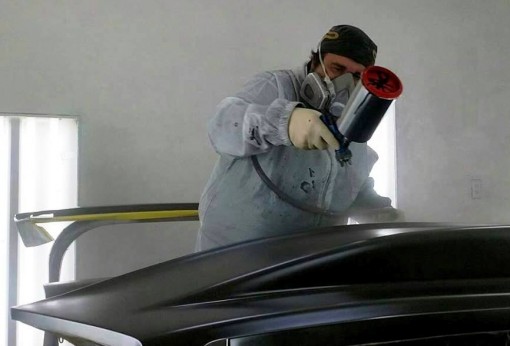 Kuzin's Kustom Body & Paint was honored when one of Stull's showstopping vehicles was featured in the 2017 Matrix Award Winning Finishes Calendar.
Stull loves the finished product, but he also likes the fact that he is using a more environment-friendly form of paint. "Even though it is solvent, it's still low VOC," he said. "For a while, the state of Wisconsin was pushing waterborne, but they haven't mandated it yet. We are now cutting hours off of production because the flash times are faster and the whole system is fantastic. We're using a lot less product too, maybe 20 percent; we're saving a lot of money."
Stull was an Elvis impersonator for many years, but when it comes to the Matrix's MPB-LV Low VOC Basecoat, only the real thing will do. "When this paint came into my life, it put the fun back into my painting. I can do so many things with this product and it has me experimenting and being really creative, which is a big plus."
---
Matrix® Automotive Finishes
A Valspar Automotive Brand
600 Nova Drive, SE
Massillon, OH 44646
(800) 321-0672
www.matrixsystem.com
Facebook: MatrixSystem
Twitter: @MatrixFinishes
Instagram: @MatrixAutomotiveFinishes
YouTube: Matrix Automotive Finishes
---
To read more auto body shop profiles from the June 2017 Shop & Product Showcase, click here.