Perrine Auto Body
Cranbury, New Jersey
(732) 709-1792
www.perrinecars.com
Type: Collision Repair
Number of employees: 8
In Business Since: 1927
Number of Locations: 1
Number of DRPs: 6
Production Space:

6,000 square feet
That might mean a ride to the grocery store or beauty parlor, help with changing a lightbulb in their homes or even shoveling a snowy walkway. "Our customer service doesn't end when the customer leaves after dropping off their vehicle," said James Farrell, II, the body shop manager at Perrine. "That is what has helped keep many of our customers coming back year after year."
Since opening its doors 90 years ago, the body shop has prided itself on providing excellent service and 'Turning customers into friends since 1927.'
"They are the daily driving force behind our motivation to continue improving our business while providing a customer experience that can't be found anywhere else," said Farrell.
The collision center, located in the same building as the dealership, is comprised of four dedicated body repair bays, a frame machine bay, two bays with dedicated post lifts, and a single car spray booth with attached cut-in and mixing rooms as well as a drive-through bay for estimates located adjacent to the office.

Perrine prides itself on "Turning customers into friends since 1927"


In 2012, the spray booth was converted to make it more effective for waterborne paint. Farrell said that after that conversion, they had multiple problems for a few years. These included system malfunctions with the fans and other drying equipment that were becoming costly to repair with every service call. They spoke to Perrine's jobber, Brian Elmer, owner of BKE Distributors LLC, and he recommended trying Lusid's GenRock solvent-based line.
"I brought the Lusid products to their attention because the costs savings with the products were significant, but at the same time they wouldn't be sacrificing any quality," said Elmer, who has serviced the Perrine account for more than 20 years. "This was the perfect fit for the shop."
He said the Lusid products offer a lifetime warranty. "I've had zero complaints on any of the products that I sell," said Elmer. "Without a loss in production, without a loss in quality, I couldn't find a reason not to offer them the products. That's how well they work."
After a visit from the Lusid product rep John Panto, Perrine decided to give Lusid the opportunity to perform an in-house demo.
"After we completed the demo, we decided it was time for a change," said Farrell. "The ease-of-use, sprayability, quality and color match of the GenRock products were equal to, if not superior to what we were spraying prior to getting on board with Lusid."
Following the positive experience during the demo, the collision center sat down with Elmer to discuss the cost efficiencies of the different products to maximize profits.
"It turned out that this product was going to save us at minimum 45-50 percent of the cost of the product we were using prior," said Farrell. "The quality of the product was enough in itself to get us to switch but once we found out the numbers, it ended up being an added bonus."
Since switching to Lusid products in 2015, Farrell said they experienced a steady cost savings between 57-60 percent. "That's huge for us," he said. "It freed up a lot of money that was spent on materials in years past and allowed us to add other products and services, which has helped our business grow in directions it never had before."
His advice to other shops is to step outside their comfort zone and give the products the opportunity to "wow" customers at a great cost savings. "If you're an owner/manager, can you imagine saving 40 percent plus on materials without losing cycle time or quality and still offering a lifetime warranty to your customers?" said Farrall. He also encourages shops to think about what they can do with that additional savings on materials.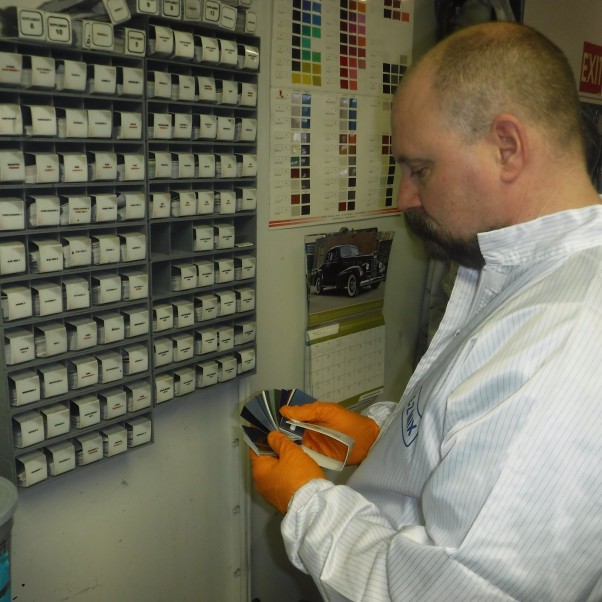 Perrine Body Shop's painter, John Orndorff, checks for a color in Lusid's expansive color deck
"In this industry, we get comfortable with things, especially the single shop, mom-and-pop businesses," said Farrell. "Looking back at the time we wasted, we could have saved a lot of money and began expanding our business sooner."
Perrine Auto Group has deep roots in the community. It was originally opened in 1927 in Jamesburg, New Jersey as a Pontiac dealership by Frederick S. Perrine, a United States Army veteran. In 1946, the dealership was relocated to a larger facility. When Perrine's son, Frederick H., returned from serving in the United States Navy, he joined his father in the day-to-day operations and began expanding the dealership. His own son, Frederick L., helped further expand the business and relocated to Cranbury in 1997.
The company still has customers come in and say they've done business with Perrine since the 1940s and 1950s. "They say they continue to use us because we are just as family-oriented and friendly as we were back then." He said they can also be assured of an excellent repair with the help of Lusid's GenRock products.
---
Lusid Technologies
(801) 966-5300
www.lusid.biz
---
To read more auto body shop profiles from the June 2017 Shop & Product Showcase, click here.