Arone Auto Body
Homer City, PA
(724) 479-3242
www.aroneautobody.com
Type: Collision Repair
Facility Employees: 18
In Business Since: 1985
DRP Programs: Seven
Number of Locations: One
Combined Production Space: 30,000 square feet
"I'm a very hands-on business owner," said Arone. "I do not spend the day in the office; I'm out in the shop getting dirty. It's just what I like to do."
He said his "employee retention" is what makes his shop unique.
"I have guys who have been working for me for over 20 years, including my manager who has been here for 30 years," Arone explained. "That's pretty much unheard of in this business."
The shop owner said he's been really lucky, despite being in a rural area with "not a lot of people to pick from."
"My employees get along and work together well with no bickering or real issues at all," Arone added.
He has mostly depended on referrals from current employees for new hires.
"We have a good, solid group," Arone added.
As far as attracting customers, the shop owner uses a variety of methods.
"Besides word of mouth, we've put up billboards, shared customer testimonials on the radio and maintained our Facebook page," he explained. "We are in the process of expanding our online presence."
When Autobody News asked the shop owner about his main concerns, he listed profitability and technology.
Owner Frank Arone switched to Sikkens paint by AkzoNobel nine months ago and has been thrilled with the results.
"Working with DRPs has required us to add more staff to deal with the heavier workload," Arone explained.
Arone did say he has been looking into aluminum certification, so that may be his next big technology investment.
"We've been watching [the trend] closely to see what's happening in our area," he said. "There aren't a lot of high-end vehicles here, so our big client would be the aluminum Ford pickups."
The shop owner did make one move nine months ago that he has been over the moon about ever since: switching to Sikkens by AkzoNobel.
"The Sikkens quality of paint is outstanding," he said. "We've been looking for that flawless paint finish that Sikkens offers."
Arone said before switching to Sikkens, he had to pay almost $200,000 in restoration re-dos that the previous company wouldn't stand behind.
"[Our previous distributor] insisted that the solvents had to be forced out of the finish by baking the vehicle [up to 15 times]. They even wanted me to bake between the base coat and clear coat," he explained.
Instead of renewing his five-year contract, Arone decided it was time for a change.
"I had been speaking to a sales representative from AkzoNobel for the better part of a year," he said. "I told him, 'Before I make the switch, I want to restore one of my own cars--a 1970 Camaro Z28--using your product from start to finish.'"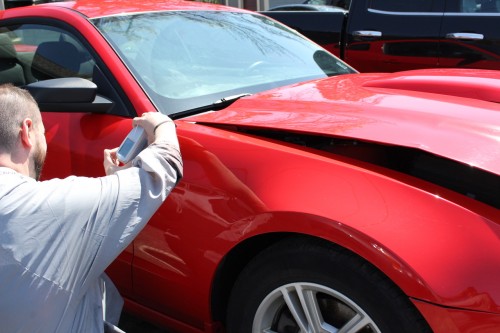 Arone Auto Body is also a restoration shop.
The sales representative happily obliged, even when Arone said "I'm going to abuse the product and push it to the limit to try and make it fail."
"We went through the whole process using only AkzoNobel products," he said. "We never baked the car, never force dried it whatsoever, but we pushed it to the limit and the car looks fantastic."
Arone added that the 1970 Camaro Z28 restoration project took only seven months, "which is really hustling."
"We've had no failures since we started using Sikkens for restorations and collision repair," the shop owner added. "I really can't say enough good things about it."
Arone said AkzoNobel has restored his love for painting.
"I've been doing this since I was 12; I love this work," he said. "I was so relieved when my AkzoNobel rep told me to 'paint how you know how to paint."
Arone Auto Body also utilizes AkzoNobel's Automatchic Vision Digital Camera for restoration and collision repair jobs.
"It has been working out really well for us," Arone said. "It allows us to effectively match the original color from a library of options."
He added that they've shown a few of the customers how it works and they're "amazed" by the technology.
"The camera system AkzoNobel offers is second to none," Arone said.
The shop owner added that his lead painter uses the camera exclusively for collision repair.
"He hasn't stopped smiling since we started using AkzoNobel products," he said.
Arone Auto Body has had great success with AkzoNobel's Manual Proportioning Unit (MPU) as well, which dispenses clearcoat.
"When we visited AkzoNobel's training center, we saw it used in a demo and were very impressed, so we decided to try it out," Arone said.
He explained that if the painter runs out of clearcoat in the middle of a job, all he has to do is walk out of the spray room into the mixing room and it will be dispensed in seconds from the MPU.
"There's no measuring needed; it's really fabulous," he said. "If I tried to take it out of here, my lead painter would leave with it."
---
AkzoNobel
1845 Maxwell Drive
Troy, MI 48084
www.akzonobel.com
---
To read more auto body shop profiles from the June 2017 Shop & Product Showcase, click here.