Index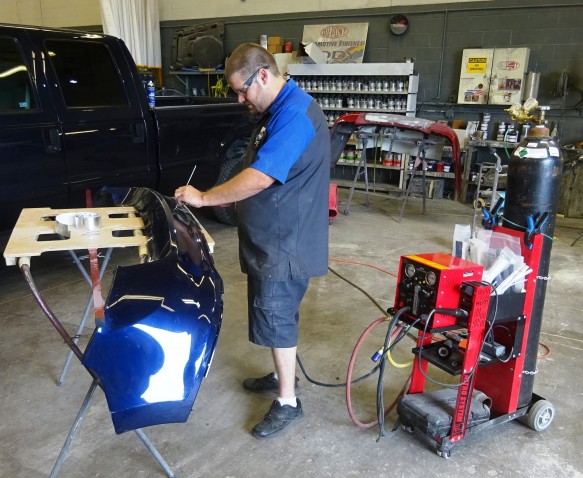 Body Technician Brad Bellamy at Metro Ford Collision Center in Independence, MO uses Polyvance's 6059-C Nitro Fuzer Welding System to repair bumper covers and other items that he previously he had to replace.
The Metro Ford Collision Center in Independence, MO, has only been using its Polyvance 6059-C Nitro Fuzer Welding System for a brief time, but the early reviews are 5-stars across the board.
Metro Ford Collision Center
Independence, MO
(816) 254-9800
Type: Collision Repair
Facility Employees: 9
In Business Since: 1981
Number of Locations: One
DRP Programs: 4
Combined Production Space: 8,000 square feet

By repairing instead of replacing bumper covers, headlight tabs and other items, Metro Ford's Body Shop Manager John Everett is slightly surprised and extremely happy with the system.
A 22-year veteran of the collision repair industry, Everett, 45, has held just about every job available at the Metro Ford Collision Center over the years. So when he sees a new piece of equipment that can drastically make his life easier, he's ecstatic. "I learned this business by doing it," Everett explained. "I worked my way up the ladder: painter apprentice, body tech apprentice, estimator, assistant manager, and finally, manager. I've seen a lot of positive changes in this industry, and Polyvance's 6059-C Nitro Fuzer Welding System is a good example of that."
The Metro Ford Collision Center is a busy shop, fixing 100 cars every month and working on local fleets as well, so time is always of the essence. "We only have eight people working here, so we have to keep rolling to make our numbers," Everett said. "We get a fair amount of fleet work here from the city and Jackson County, including all of the police vehicles. Plus, we do a lot of re-con work on the cars our dealership sells to prepare them for sale."
With so many things happening at a frenetic pace, Polyvance's 6059-C Nitro Fuzer Welding System is a breath of fresh air, Everett explained. "We're currently in our sixth month using this machine and we're really impressed with it. It's a real game changer for our turnaround purposes. Waiting for parts to arrive is a waste of time and it can really slow us down. So by fixing these items, we don't have to wait or settle for a re-manufactured or used part. We used to have to wait on headlight assemblies, just because a tab or two was broken, but now we fix them and move on. It's beautiful!"
According to Everett, the savings of repairing something versus replacing it can be significant. "We were fixing a Mustang GT recently and it needed a new headlight, because a tab was broken. So, instead of ordering a new one, we fixed it and now it looks brand new. Even a highly-trained eye can't tell the difference. Without this machine, we would have had to replace it with a new $800 headlight. But with this system, we repaired it in about one hour, so that is definitely an attention-getter."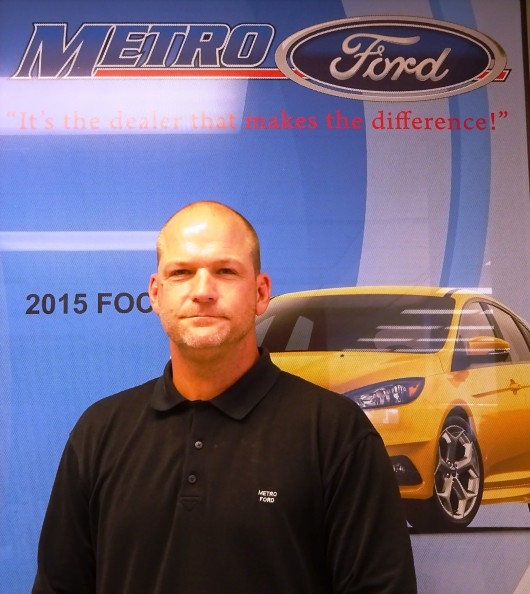 Metro Ford's Body Shop Manager John Everett has seen a significant improvement in his cycle time by using Polyvance's 6059-C Nitro Fuzer Welding System.
After a brief training session held by Polyvance, Everett's techs know how to use the 6059-C Nitro Fuzer Welding System and are getting better at it all the time. "We like the fact that the plastic is durable, bendable and it dries quickly. It allows my guys to start working on it right away and shaping it almost immediately. When it comes to using any new piece of equipment, it all comes down to practice, and I can see some of our people already becoming more comfortable with using it."
One of Everett's technicians, Brad Bellamy, is highly proficient with the system and producing excellent work as a result. "He is my go-to guy with the Nitro Fuzer and not afraid to take on any job with it," Everett said. "If I have a tech working on another vehicle and there is a damaged bumper that needs to be fixed, I like to give it to Brad. He's very thorough and detail-oriented, so he is the ideal person to be doing this work. As a result, he's been able to perfect the process and I am confident he's going to get even better at it over time."
Major issues that the Metro Ford Collision Center used to have with tabs on bumper covers have disappeared almost completely by using the 6059-C Nitro Fuzer Welding System by Polyvance. "The tabs get ripped off and we had to replace them prior to using this system," Everett explained. "It's critical with these tabs because they click into the brackets, and if they're not locked in there, you can get a lot of other problems. The bumper will stick out or you'll see bulges, and it will look just terrible. After fixing them with this system, they actually come out stronger than they were originally."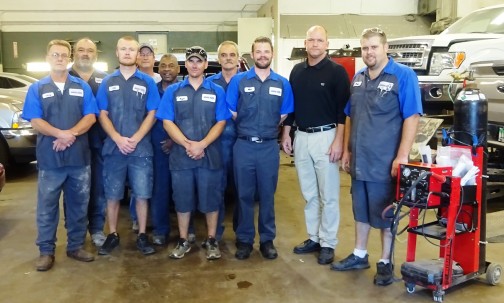 The crew at the Metro Ford Collision Center fixes roughly 100 cars monthly as well as a fair amount of fleet work.
Back in 1981, Polyvance was formed to address the needs of bumper recyclers and to supply products to repair urethane bumper covers. As auto manufacturers began using other materials in bumper covers, Polyvance developed products to repair those types of plastics as well. By focusing on plastic repair and refinishing, Polyvance is reinventing the process of plastic repair and developing products to address each step and changing the collision industry one repair at a time.