Each year, members from the Automotive Aftermarket Association Southeast (AAAS) gather in state capitols in the association's service areas. In addition to visiting Jackson, MS and Tallahassee, FL, AAAS members held a Capitol Day in Montgomery, AL for the first time in 2016.
Randal Ward, President of AAAS, said, "The 2016 AAAS Capitol Days were a tremendous success! A dozen members took time out of their busy schedules to make their presence known and have their voices heard in their respective states."
AAAS members began their Capitol Day tour on January 13 in Jackson, MS where they met with Representatives Gary Chism, Mac Huddleston, John Moore, Brent Powell and Alex Monsour, as well as Senators Billy Hudson, Eugene Clarke, Willie Simmons, and Josh Harkins, and Lieutenant Governor Tate Reeves.
According to Steve Kean, AAAS Board member and CFO of Rick's Pro Truck, "It is important that we develop and maintain relationships with our legislators so that they will know how vital our industry is to consumers. These relationships give us more creditability and access should unfavorable legislation emerge and we need them to hear our message."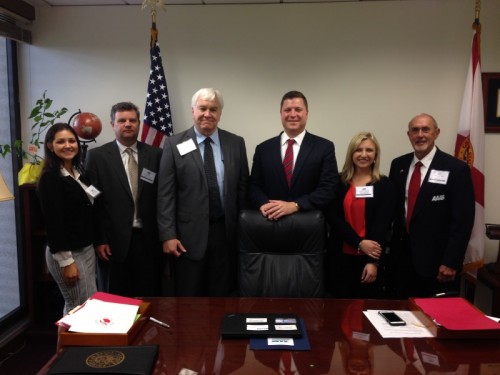 L-R: Paulina Siodlak, Joe Ward, Randal Ward, Senator Jeff Brandes, Kierstin Turnock, and George Ehrhard
Moving to Tallahassee, FL on February 2 and 3, association members engaged in meetings with Representatives Ritch Workman, Larry Ahern, Shawn Harrison, Greg Steube, Jose Oliva, Bill Hager, and Patrick Rooney. In addition to meeting with Senators Jeff Brandes and Dwight Bullard, AAAS's delegation visited Deputy Agriculture Commissioner Jay Levenstein and the Attorney General's office. "It was so rewarding to go into the legislative and executive meetings and have the association be recognized without having to introduce ourselves and the industry," says Joe Ward of First Call Truck Parts. "It is certainly proof that our dedication to Capitol Days throughout the years is paying off by building long-lasting relationships in Tallahassee."
AAAS made history on February 24 with its first ever Capitol Day in Montgomery, AL where members met with Representatives Joe Faust, Craig Ford, Danny Garrett, Mike Hill, Arnold Mooney, John Rodgers, Roderick Scott and Randy Wood in addition to Senators Slade Blackwell, Dick Brewbaker, Paul Bussman, Rusty Glover, Greg Reed, Shay Shelnutt, J. T. Waggoner, and Phil Williams.
Steve Kampwerth of Auto Electric and Carburetor stated, "This year marks the first ever Alabama Capitol Day, and it could not have been better. Each of the Senators and Representatives we spoke with now has a familiarity with our industry and businesses. They know that if they have questions or needed information, our members and our association are trustworthy and will make valuable resources available to them."
L-R: Randal Ward; Senator Billy Hudson; Kierstin Turnock; Steve Kean
Each Capitol Day provided AAAS members with an opportunity to discuss the aftermarket industry and the association with key leaders and members of their state's legislature, plus they were able to make new connections and strengthen relationships while explaining the needs and concerns facing the automotive aftermarket industry. Key topics that association members discussed with legislators this year included support of the Right to Repair Act and the PARTS Act, as well as the importance of maintaining an open market for automotive aftermarket parts.
According to Liz Burleson-Barrett of Big Moe's Spring and Alignment, "Capitol Day was an exciting and energizing day, filled with the opportunity to advocate for our industry. I believe every member would find Capitol Day in their state rewarding and time well-spent."
Ward concluded, "As usual, our members have stepped up and supported efforts to advocate for a strong and competitive automotive aftermarket to those who make decisions that affect the industry. We appreciate our members' time and effort as well as our event sponsor Federated Insurance. We look forward to 2017 when we expect to conduct Capitol Day events in all four state capitols."