Byton K-Byte Concept
Source: Byton
You have probably heard a lot about this vehicle. The Byton K-Byte Concept promises to bring both a high level of comfort and electric performance to families.
The Byton company hopes to create a premium sedan with an advanced electric drivetrain and nearly fully-autonomous driving capabilities.
Inside the vehicle, you will find an impressive 49-inch display screen which acts as the car's control center for real-time driving information, navigation, and infotainment.
The vehicle will be available for purchase in 2021.
Rivian R1S
Source: Rivian
Think of the Rivian R1S as a modern update to the standard SUV that you are so accustomed to seeing or driving. At the LA Auto Show, the Rivian R1S is one of the more unique looking cars the at the showcase with its head-turning front-end design.
Created by an MIT alumni startup, the electric vehicle will host an impressive 410 miles of range off of a single charge with the largest battery installed.
Inside the vehicle, you will find a very comfortable and luxurious looking interior, perfect for those long trips, with its wood accents and premium seats.
Infiniti Prototype 10
Source: Infiniti
Like something out of Speed Racer, the Infiniti Prototype 10 is ready for the future. Though you might not be able to get behind the wheel anytime soon, the car showcases Infiniti's dedication to design and where it plans to take the next generation of vehicles.
The Prototype 10 is a dynamic single-seat roadster with an electrified powertrain, something perfect to tackle any potential electric races thrown your way.
Volkswagen ID Buzz Cargo Concept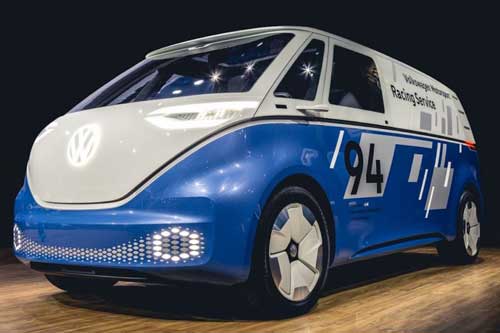 Source: VW
Like if the 1960s fused with the 2020s the Volkswagen ID Buzz Cargo Concept embodies everything people enjoy about the car company.
Potentially making its debut on the market for consumers in 2022, the fully electric "van" can travel 340 miles off of a single charge.
Another highlight from the LA Auto Show, the vehicle can utilize the solar cells placed on the top of the vehicle's roof to increase its range by 9.3 miles per day.
Also installed with a high-level autonomous driving function the ID Buzz Cargo Concept is expected to generate 201 horsepower.