"This program is a game changer for the industry," commented Rick Leos, Collision Program Developer, Toyota Motor Sales, U.S.A., Inc. "By offering a solution that provides Toyota repair procedures, parts, and technical information in one place, we help the industry by establishing a standardized approach to repair planning. Collision repair specialists will benefit from decreased cycle times, reduced supplements, and greater overall work efficiency. It's a win for our customers, repair experts, and insurance companies alike."
Toyota has integrated with Mitchell Estimating, which will be the online platform for repair shops and insurance carriers. Although Toyota is the first and only OEM currently providing Recommended Repair Procedures, the estimating platform is capable of writing an estimate on any vehicle in Mitchell's database, according to Kenny Crumpler, product manager at Mitchell International.
"All these years we've relied on insurance companies to guide us on cars, and now its time for the OEMs to push their data down to the street level to get our cars fixed," said Leos. "With the technology nowadays you got to have all the information...there's no way you're going to have technicians able to specialize in 30 OEM models and sub-models."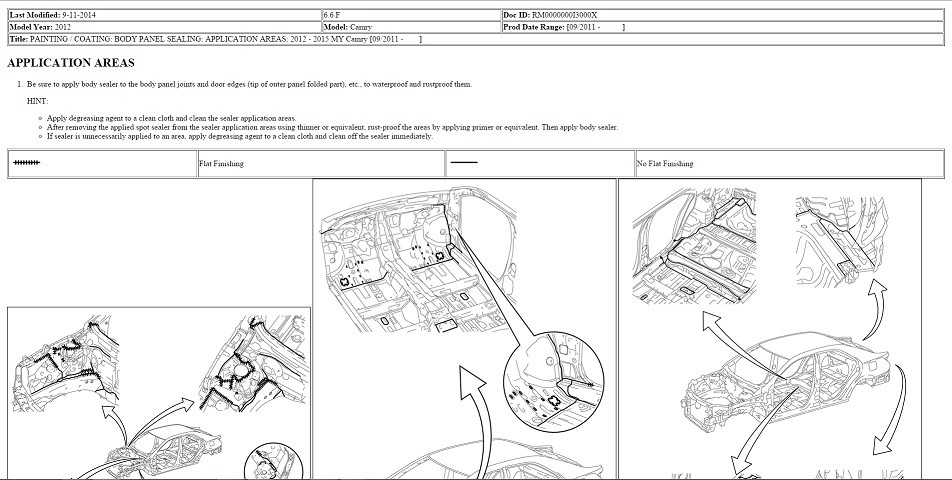 Toyota's template-based program reduces the preparation of a repair plan from hours to a couple minutes, saving collision repair specialists' time, while increasing the level of efficiency and accuracy at the front end of the repair process. Repairers no longer need to start from a blank sheet of paper; they begin with a detailed repair plan, and omit what isn't needed rather than adding each operation individually (see screen shots). Additionally, TRRP includes recommendations on parts that manufacturers designate as non-reusable or one-time use, which by definition means they must be replaced rather than reused.
"When you have 1.8 million claims a year, a 500 shop network isn't going to able to make a big enough footprint," said Leos. "Ninety percent of our cars are fixed by the independent repair shops- we owe them this data, so they can have the documentation to get the job done correctly and, most importantly, safely, for our customers," said Leos, a 25-year collision veteran who has been developing Recommended Repair Procedures since he entered the industry.
Toyota's long-term vision is to offer other OEMs the opportunity to leverage this patent-pending template technology, consequently shifting the industry paradigm to one with greater transparency and better access to factory-recommended repair procedures. As a result, OEMs will achieve a significant impact in maintaining the safety of their vehicles through greater visibility of the parts and procedures required to complete the repairs.
"I hope this is the beginning of something that will catch fire," said Crumpler.
On November 4, Leos and Crumpler decided that the new template will be integrated into the legacy system, which they hope will make the transition to an upgraded platform smoother.
TRRP is currently being tested at Beta certified Toyota locations. In an effort to broaden the reach of this template technology, it is being licensed under the name "OEM Recommended Procedures" to OEMs and data providers in the U.S. and internationally.
To learn more about TRRP, contact Rick Leos, Collision Program Developer, Toyota Motor Sales, U.S.A., Inc. at (310) 468-3111.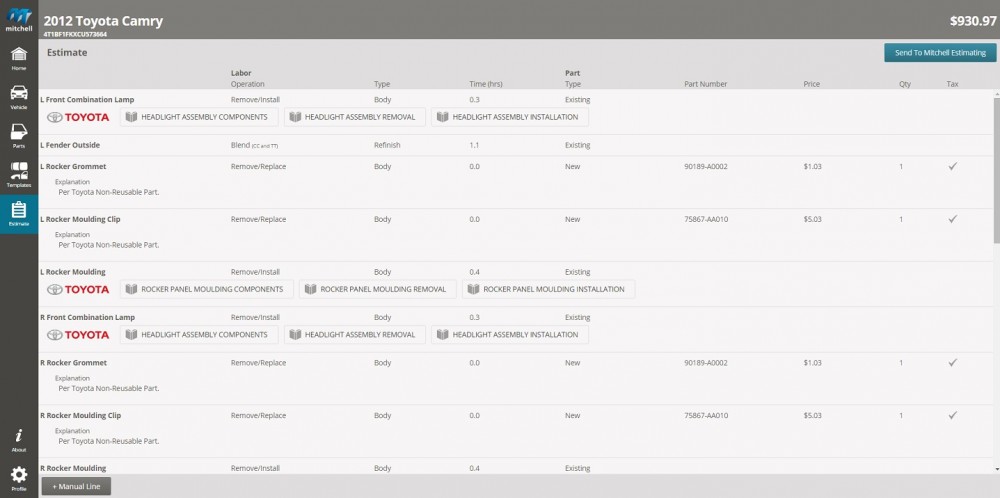 Photo cred for three screen-shots from TRRP program: Kenny Crumpler, product manager at Mitchell International