At 8:30AM, LIABRA's Executive Director Ed Kizenberger began by explaining that the association will be holding OEM training seminars throughout the year to keep members updated on the new technology and materials being used by vehicle manufacturers. He emphasized the importance of being properly trained to repair modern vehicles.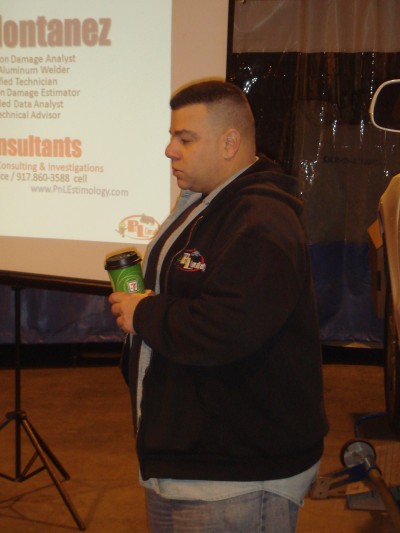 Larry Montanez of P&L Consultants speaks about aluminum repair at the March 14 LIABRA meeting, held at Touch of Class Collision.
After reading the standard Anti-Trust statement, Montanez's PowerPoint presentation began by discussing the varieties of steel and aluminum used in today's vehicles. He explained that these new, lighter materials help to reduce weight and comply with federal CAFE laws mandating increases in gas mileage. As he outlined the different types of steel and aluminum being used, Montanez described how to repair aluminum and high-strength steels, noting that many parts used with these materials must be replaced instead of repaired.
Focusing on specific vehicles manufactured by various OEMs and the materials used in these cars, Montanez notes that dedicated benches and work areas, as well as special tools, are often required to properly repair these models. He also spent a significant amount of time discussing how to repair and weld specific types of aluminum. Montanez concluded by emphasizing that training on proper repair techniques is critical for today's vehicles. He also outlined the costs and time required to become certified through an OEM, most of which begin with being sponsored by a dealership.
Throughout the training seminar, Montanez answered many questions and interacted with attendees. As usual, his presentation was informative and educational, in addition to being highly entertaining. Attendees were very satisfied with the seminar and felt they learned much about repairing modern high-tech vehicles.
LIABRA would like to thank Gabe Scognamiglio, owner of Touch of Class Collision, for allowing the association to use his facilities for a second time. The association is also thankful to Enterprise Auto Rental and International Auto in Lindenhurst who provided coffee and bagels as refreshments for attendees. Although LIABRA will not hold a general meeting in April, they will hold their annual Lobby Day on April 21. The next general meeting is scheduled for May 19 at Eagle Auto Mall and will focus on GM Structural Repair.