The meeting commenced with Tony Ferraiolo, President of ABAC, playing a March 9 radio station interview from CT's WICC, Bridgeport with U.S. Senator Richard Blumenthal promoting the association's "Your Car, Your Choice" slogan. After welcoming attendees and thanking sponsors and ABAC's News Supporting Advertisers, Ferraiolo broached the topic of the recent CNN report on the collision repair industry.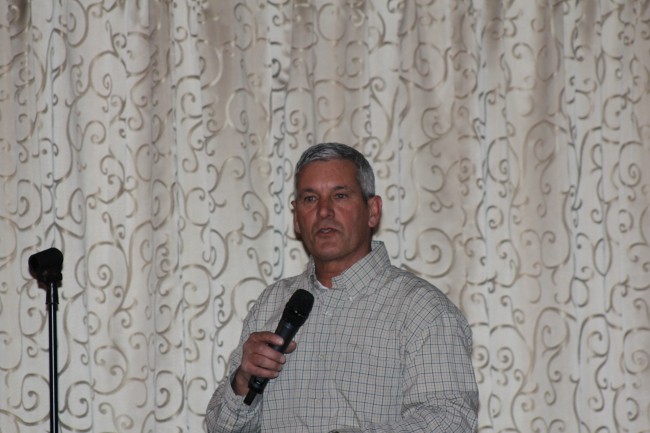 Bill Denya of Denya's Auto Body
"We have a lot going on right now in our state," Ferraiolo began. "You've heard from Senator Blumenthal who has been hitting the airwaves hard to support our issues. The ABAC is getting ready to launch our new ad campaign to get the message out there so that all of you aren't fighting alone concerning imitation parts. We will be helping to educate the consumer so that they can help fight the battle on their own. It's their car, their choice. If they don't want these parts on their car, educate them! The ABAC is very busy getting that message out there."
Next, Ferraiolo mentioned Senator Blumenthal's recent press conference at A&R Body Specialty when ABAC members taught him about imitation parts.
He stated, "Senator Blumenthal understands what's going on. We educated him over many years when he was Attorney General, and now as a U.S. Senator, he's taking on that battle [and] going to the Department of Justice. He wants answers to these issues because he's concerned about the safety of these vehicles in the road that have been repaired with parts that have not been crash tested property and the serious danger that consumers can face."
Ferraiolo encouraged attendees to direct customers to the consumer information section on the association's website, so they can be informed on the issues at hand. ABAC's President also provided updated on the Hartford Lawsuit (still awaiting the result of the final appeal), lobbying activities, and the paint and materials tax. Ferraiolo notes, "The ABAC has submitted testimony in favor of HB5655 to review the taxation of paint used in motor vehicle repair."
Having concluded with association business, Ferraiolo introduced the evening's first guest speakers, Thomas J. Valentino, CPA, and Jeffery M. Cheney, CPA, CFE of Meyers, Harrison and Pia, LLC, who discussed how collision repair facility owners should derive their labor rates. Valentino explained that every shop is different and no two labor rates will be the same. He states, "It's a shop-by-shop determination. You're located in different areas, have different overhead, different rent or different payroll structures, so each one of you should be looking at your own expenses to determine your actual cost."
Moving on, Ferraiolo recognized ABAC's Board of Directors' new members, introducing John Walsh of Oxford Automotive, George Atwood of Atwood's Auto Repair and Sabrina Indomenico and Adrianna Indomenico, both from Santostefano's Auto Body. Ferraiolo then introduced the next speaker, ABAC's Legal Counsel John Parese.
Parese discussed the Labor Rate Survey and the importance of completing and submitting it. He also reminded attendees that if they do a labor rate survey, it cannot be shared with others; doing so would violate anti-trust mandates. In typical town-hall style, attendees asked questions and discussed some of the problems they've encountered and solutions they've instituted, helping one another in true ABAC spirit.
ABAC's Legislative Director Bill Romaniello presented a video, "Utilizing Technology to Write a More Accurate Sheet," and showed attendees where to locate OEM repair information, such as through AllData, OEM specifications and directly from the vehicle's manufacturer. Further topics included the following: the importance of proper repair forms and authorizations, using the assignment for money due to get your posted labor rate, pre-suit options, sample labor rate surveys, conduct of motor vehicle physical damage appraisers, towing and storage, aftermarket v. OEM parts, paint and materials, access to technology, miscellaneous useful documents and tortious interference with contract.
The meeting concluded with a 50/50 raffle and gift cards donated by Gary Danko of the Balise Auto Group – Wholesale Parts Express.
ABAC will hold their Annual Meeting on May 10 at the Chowder Pot Restaurant in Hartford. In addition to holding officer elections, the association plans to host several exciting guest speakers.
Stay tuned for more details, or visit www.abaconn.com.