The Competition Auto Group also treated attendees to a delicious buffet dinner before the meeting commenced at 8PM on January 17.
LIABRA Executive Director Ed Kizenberger began the meeting by reminding members that LIABRA facilitated the passage of a bill last year which amended 2610 of the insurance law. The law, which took effect January 1, 2017, requires insurers to include the following statement on every estimate: "pursuant to 2610 of the insurance law, an insurance company cannot require that repairs be made to a motor vehicle in a particular place or repair shop. You have a right to have your vehicle repaired in the shop of your choice."
Kizenberger also discussed a rate change recently enacted by a major insurance carrier. Kizenberger reminded association members that it's vital "to dismantle the vehicle and prepare an accurate and detailed estimate using rates determined by you and your accountant and that every element of a claim is negotiable, including rates. If insurers refuse to negotiate any element of the claim, you can file a complaint with the New York State Department of Financial Services here. A complaint can be filed for any unfair claim practice. If you file a complaint, please send pertinent details of your complaint including the DFS claim number to Liabracomplaint@gmail.com. Consumer complaints are very important, as they help the DFS understand claims issues."
Next, Kizenberger introduced Diana Walters, BMW Color System Program Manager, who discussed the benefits of the new BMW color system: no contract is required, and BMW will cover the cost of the initial spray ready set-up for this water-based system which can be used on any car and provides superior color-matching. Also, BMW factor training is available to participants who will also receive support from BMW factory-trained technicians. Those interested in acquiring more information can contact Diana Walters at 201-571-5918.
Kenny Tran, Director of BMW Training, then discussed the importance of using BMW's advanced technology at www.BMWtechinfo.com to prepare an itemized repair estimate using BMW parts and repair techniques. Tran also talked about new BMW technology, future changes and the new BMW i while stressing BMW's proper repair procedures.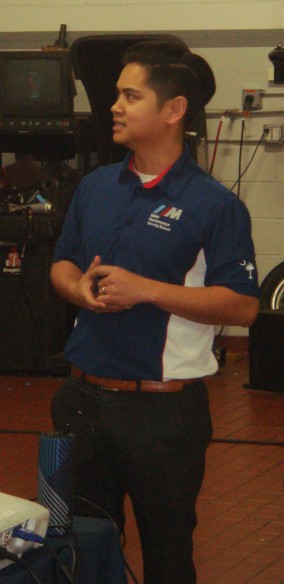 Kenny Tran, BMW Training Director
Next, Mercedes-Benz Parts Sales Manager for the Northeast region, Bill Mohrmann, covered the new Mercedes-Benz multi-beam LED headlamp system, pre-safe sound, pre-safe side collision systems, Mercedes-Benz parts positions statements, and new Mercedes-Benz parts warranties. According to Kizenberger, "Mercedes-Benz now warranties its parts for 24,000 miles and engines and transmissions 48 months or 50,000 miles. Mercedes Benz and BMW now require repairs with OEM parts only in their lease contracts. He recommended the use of collision link to price match OEM parts with the cost of salvage or aftermarket parts. Go to www.CollisionLinkShop.com for more information or call Michael Levantino Mercedes Benz of Smithtown parts rep at 631-265-5339."
The final speaker of the evening was Lisa Brown from Collision Diagnostics Services, who discussed the diagnostic services provided by her company. Brown explained, "Using the CDS scan tool connected to the vehicle OBD-11 port and your computer, all the vehicle information will be sent via the cloud to CDS where the vehicle will be remotely scanned and diagnosed using OEM scanning equipment and OEM trained technicians. A report will be generated and returned to the shop. The cost of the scanning tool is $2500 the first scan will cost $119.95 the second and any subsequent scans will cost $50.00, however all invoices paid timely will receive a 25% discount. Virtually all OEM manufacturers are now requiring that their vehicles be scanned before and after a collision to be sure that all safety systems are in proper working order."
All OEM position statements regarding pre- and post-repair scanning are available at www.oem1stop.com, and those interested in obtaining more information about Collision Diagnostics Services can reach Ms. Brown at 888-486-1166.
At 10PM, LIABRA and ABCG's meeting adjourned with raffle drawings. Bob Smith of USA Autobody in East Patchogue won $300 from the 50/50 drawing, and Gil Phillips of Big and Little's Autobody won the grand prize: a beautiful BMW mountain bike.
Kizenberger added, "LIABRA and ABCG would like to thank the Competition Automotive Group for their gracious hospitality and the use of their beautiful venue for the meeting as well as the buffet dinner, coffee and dessert, chairs, tables and the raffle prizes."
The associations' next meeting will be held in March at Precision Transmissions in Brooklyn.