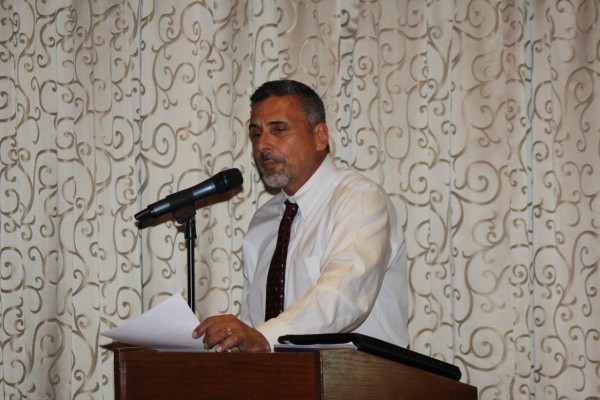 Tony Ferraiolo
The first speaker of the evening was Dave Kapitulik, Educational Consultant for Transportation Technologies for the Connecticut Technical High School System. As overseer for the state's automotive programs, he reported that all 18 technical high schools in Connecticut provide automotive technology repair programs, but only half offer collision repair training programs. While 1000 students are learning automotive mechanics, only 450 are learning collision repair.
Leaving shop owners with contact information for all 18 technical schools, he warned, "Not all of these students will want to stay in the trade, and not all if them will want to go into the trade after graduation. You will need to find those who really have a passion for cars, really have a passion for the industry."
Kapitulik also encouraged attendees to get involved with the Technical Training Advisory Committee (TTAC) established at each trade school. These committees seek interaction and advice from participating industry professionals in regards to curriculum, proper training and tool/equipment purchases at their semi-annual meetings. Although several attendees are already engaged with TTAC, Kapitulik stayed to answer questions and is available at 860-807-2090 for those requesting additional information.
Next, ABAC's Legal Counsel John Parese summarized the Hartford Lawsuit decision recently made by the Supreme Court.
Ferraiolo noted, "The review was informative and gave a great example of why the ABAC board encourages as much participation as possible at the quarterly meetings. There's no substitute for hearing something like this firsthand and knowing what you, as a shop owner, need to know going forward." Although he was not an attorney on the Hartford case, Parese lingered to answer attendees' questions.
After reminding everyone to keep copies of the "Conduct of a Motor Vehicle Physical Damage Appraiser" in their shops and stressing the importance of consumer protection laws, Ferraiolo introduced the evening's main presenters: Jeff Shaw, GM Wholesale Specialist, and George Tuchman, GM Service Trainer-Wholesale. Their presentation was sponsored by Richard Chevrolet and facilitated by Parts Manager Ron Vernick.
Shaw began his presentation on RepairLink, a VIN-driven solution offered through Richard Chevrolet and GM that provides accurate, up-to-date parts information and replicas of the exact illustrations dealers use. Ferraiolo recaps, "It gives you, the collision shop, the ability to get retail prices, along with your price, at participating dealers. There is no cost to the collision shop since the participating dealer incurs the expense of the program. It allows you the opportunity to schedule your time better so you can use it when you want or need to."
Tuchman followed Shaw with a discussion on the specifications and repair procedures for replacing structural body components on 2014-2015 vehicles. He warned of the safety ramifications associated with improper repairs, discussed different metal/steel construction, and touched on the challenges of acquiring the proper repair equipment. Shaw also provided information on proper mounting requirements for frame and uni-body repairs, how to correct OEM service information and welding/cutting updates.
ABAC is grateful for the support of the meeting's sponsors: Richard Chevrolet, Enterprise Rent-a-Car and Albert Kemperle, Inc. Ferraiolo also welcomed new association members Harte Infinity and Middletown Nissan, and he thanked new ABAC News Advertisers Jackson Chevrolet, Gates GMC, Buick and Nissan, and Tasca Dodge-Chrysler, Jeep, Buick, Chevrolet, GMC, Nissan and Hino Trucks.
ABAC remains at the forefront in providing members with educational information and state laws to help show owners and protect consumers. Their next meeting will be held in November in Groton, CT.