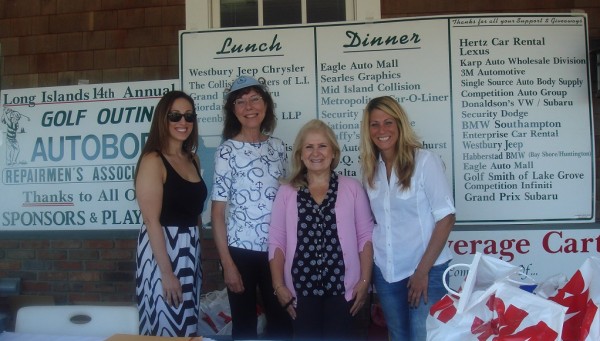 The LIABRA ladies pose for a photo while volunteering at the mid-September golf tournament fundraiser.
Sign-in and brunch on the patio began at 10AM, and then golfers were provided with a chance to warm up on the putting green and at the driving range. At noon, a shotgun start announced the beginning of the four-person full scramble. Golfers enjoyed a variety of skills challenges on the green as well.
The lowest score was 64, achieved by the team comprised of Mike Padula, John Sherry, Cesare Purlo and Pat Napolitano. The women's longest drive was achieved on the 9th hole by Lisa Dinicolis, while Tom Kehienbeck hit the longest drive for men, also on the 9th hole. Mike Hade won the award for closest to the pin on the 15th hole, and all of these skills challenge winners received gift certificates in recognition of their victories. Competition Infinity offered three hole-in-one prizes: a 2015 Q50S Infinity, a set of Ping irons and a $500 cash prize.
Throughout the tournament, volunteers sold raffle tickets, and each hole offered cold water and beverages to golfers. Golfers were treated to fresh Long Island clams on the half shell at the 17th hole, courtesy of Baiting Hollow Golf Course.
When the rounds concluded at 6PM, participants gathered in the club house for a cocktail hour and appetizers, followed by a buffet-style dinner. During dinner, LIABRA held a chipping contest, awarding a cash prize to the player nearest the pin. Coffee and dessert were served after dinner as the raffle prize drawing took place with hundreds of prizes being distributed, and nearly everyone walked away a winner. One lucky golfer won a 32" LED television, courtesy of LIABRA, and three collision center players won a four-day all-expenses-paid golf trip to Myrtle Beach, SC, courtesy of Donaldsons Subaru.
Golfers referred to this year's tournament as the best they've ever experienced, and Golf Committee Chairman Paul O'Connell has already begun planning LIABRA's 2016 Golf Tournament. LIABRA expressed gratitude to the participants, sponsors and volunteers who made this year's event such a success.
The association will hold their October General Meeting on Tuesday, October 20 at 7PM at Levittown Ford in Hicksville, and LIABRA encourages members and industry professionals to attend this invaluable 2015 Ford Factory Aluminum Repair Workshop, presented by Ford Factory Engineers.