Click HERE to download a PDF of this article.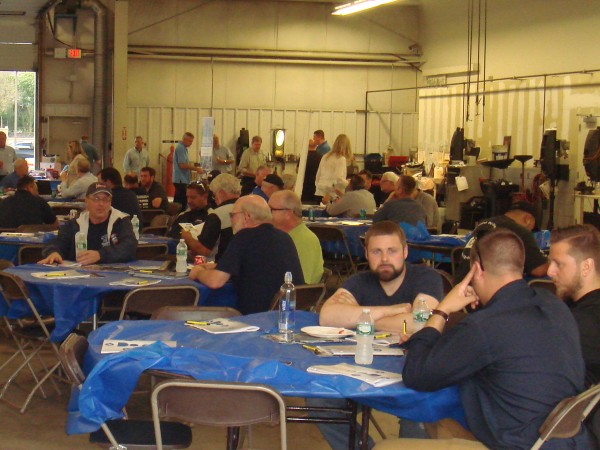 LIABRA members enjoy a buffet dinner courtesy of Eagle Parts Center.
Ed Kizenberger, Executive Director of LIABRA, began the meeting by introducing Walter Bonczwk, Parts Manager at Eagle Mazda, Volvo and Kia, and Eagle GM Parts Manager Mike Migliore, who both expressed gratitude to association members for their continued support and patronage.
Moving on to current events and industry news, Kizenberger announced that LIABRA's Lobby Day on April 21 was very successful with more than 50 industry professionals gathering in Albany to lobby for passage of their Parts Procurement Bill A6684 and their Aftermarket Parts Bill A2880. Both consumer groups and the automotive recycling industry also supported LIABRA's Parts Procurement Bill, and Kizenberger happily reported that A6684 has a good chance of passing since it was passed out of the Insurance Committee and into the Codes Committee. If signed into law, Bill A6684 will prevent insurers from requiring collision repair facilities to purchase parts and supplies from specific vendors.
Kizenberger also noted that the NY Sales Tax Department is currently auditing body shops, and he reminded members to ensure that their sales tax returns are recorded and filed correctly. Reminding attendees that LIABRA is committed to providing OEM education and repair training on an ongoing basis because of the rapid changes in vehicle construction and repair, Kizenberger introduced the evening's contribution to their training program, presenting GM CollisionLink representative Rick Scales.
Scales discussed GM's OEConnection and CollisionLink, as well as the manufacturer's Conquest Program. When he explained that GM is now patenting body parts on 2013 and newer vehicles and that GM will maintain competitive pricing to aid in the prevention of copying GM parts, several members responded, "It's about time!"
Scales also informed attendees that GM is requiring the return of bumper covers and head lamp cores for removal from the reconditioning market. Anyone interested in OEConnection or CollisionLink is invited to contact Mike Migliore at 631-727-1900
for more information.
Next, Kizenberger introduced GM Powertrain Instructor Jim Mickle who distributed a student handbook entitled "Hybrid Vehicles Safety First." His PowerPoint presentation focused on high voltage safety systems, types of hybrids and the many safety precautions associated with servicing hybrid vehicles, as well as the procedures for disabling and enabling Two-Mode hybrid 300 volt battery systems and high voltage electronics.
During his hour-long seminar, Mickle taught attendees about the basics of hybrid repair, complete with overviews of electric power steering, electric air conditioning compressors, and regenerative braking systems. He repeatedly emphasized the importance of safety precautions during the repair of high-voltage hybrids, and he concluded with a short overview on structural repair, sectioning and aluminum welding. Throughout Mickle's presentation, members asked questions and interacted with their guest speaker. The training seminar was very educational and was well-received.
At the conclusion of the meeting which adjourned at 10PM, a raffle drawing was held with prizes provided courtesy of Eagle Parts Center.
Next, LIABRA will hold their Annual 250 Club Drawing on June 16 before taking a summer break in July and August when no general meetings will be held. On September 16, LIABRA will host their Annual Golf Outing at Baiting Hollow Country Club, said to be the best golf outing on the island.