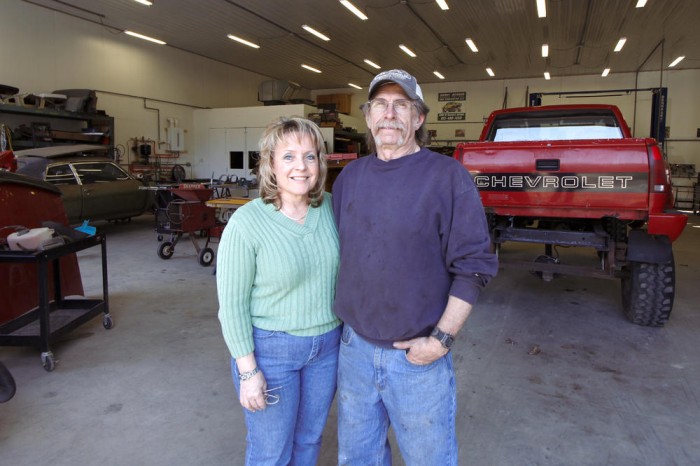 Larry and Sheryl Westerhouse are the owners of Rebel Repair, a rural New Trier business that specializes in automotive fabrication and rust repair.
Star Gazette photos by Katrina Styx
"They're not perfect," he said, "but they're a nice driver car."
The couple built a big garage, outfitted it with modern safety features, fabrication equipment and auto repair equipment. They even have a painting booth inside.
Last June, Larry lost his regular job, which led him to convert his home garage hobby into a full time gig: Rebel Repair.
The business, which went full-time last June, has evolved since it started. The biggest change came through some customer requests for normal rust damage repair without other body work on otherwise normal vehicles.
What they found was that there is a huge demand for such work, Sheryl said. Many body shops, they said, won't take on rust-only projects, and if they do, the price can be prohibitive. So they decided to provide the service themselves.
"We're rebels because we do what nobody else wants to," Larry said, explaining his shop's name.
Where some shops might remove rust and patch it with fill, Rebel Repair makes the fix more permanent. Larry uses his fabrication equipment and experience to replace rusted pieces entirely, welding new metal back onto the vehicle.
"We help a lot of people save their vehicles from rust," Larry said.
With Larry managing the majority of the shop work and Sheryl taking care of the administrative side of the business, the couple is seeing Rebel Repair grow. They also had the help of Larry's brother, Randy Westerhouse, when the business started, but he had to step away for a time.
The business revolves around metal and sheet metal fabricating, driveline and powertrain fabricating, rust removal and repair and sandblasting and painting small parts. They also offer a speed part shop and buy, sell and trade parts. Although Larry was an ASE certified mechanic for years, Rebel Repair isn't about general automotive repair.
"I don't really want to go that direction," Larry said.
Rebel Repair also is looking for unwanted, not started and incomplete project cars and trucks.
Rebel Repair is located at 21789 Inga Ave., Hampton, about three miles north of New Trier. To contact Rebel Repair, call 651-480-1550 or email RebelRepair@live.com.
Hillbilly hotrod
When he's not working on customer projects, Larry is often working on his own car building projects: hillbilly hotrods.
They're not conventional vehicles, and not the sort of thing typically seen at car shows, but they are a showcase of creativity and ingenuity.
Larry described it as making the best car you can out of the pieces you already have. That means that an old Buick body could end up on a Monte Carlo frame with a Chevy engine and high suspension – if that's what was available. Mixing parts and pieces means things don't always fit together just right, which is where Larry's fabrication skills come in handy, Sheryl said.
His current project is a 1979 Camaro body with a 1970 Chevelle engine. He's made custom body pieces, added racing seats and is giving it a new paint job.
"It's my interpretation of what a '79 SS Camaro should've looked like, if they made one," he said.
When he started, everything in the car was gone, he said. He picked it up as a practice project, started working on it last June, and hopes to see it on the road by mid-May this year.
He'd like to show it off in Faribault's car show in May, and if it's not sold at that show, he plans to bring it to the Hastings Cruise Ins.
We would like to thank The Hastings Star Gazette for permission to reprint their article.