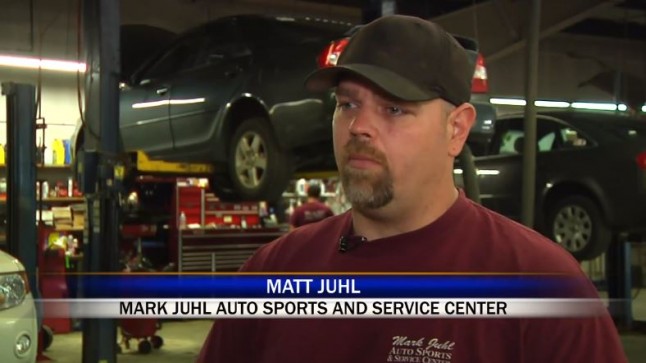 Normally, repairs needed would've cost the teen upwards of $600.
Matt Juhl and his team spent four hours fixing the car, for free.
"There was significant damage to the paint," says Juhl. "As far as removing the spray paint, it wasn't the most difficult part. Trying to get some spots to blend out in the touch up paint was the more difficult part."
The aerosol stripped the paint down to the metal on some parts of the car.
So the car will need a full body paint to get it back in the original condition.
Juhl says he's never seen a car vandalized this bad before, which is why he wanted to lend a helping hand.
"It takes somebody to step up and help them out and show them there are still good people in the world today," he says.
The Sioux Falls auto shop wasn't the only business to help out.
Nordstrom's Auto in Garretson donated a side mirror that was knocked down before the vandalism.
O-Reilly Auto Parts in Sioux Falls is donating paint, and Integrity Auto Body in Tea has offered to re-paint the car for a reduced price.
Sioux Falls Police say they received a report of the vandalism Sunday afternoon, but there are no known suspects at this time.
KDLT reached out to Ezra Hall for an interview and got initial contact, but did not hear from him after that.
Thank you KDLT for reprint permission.