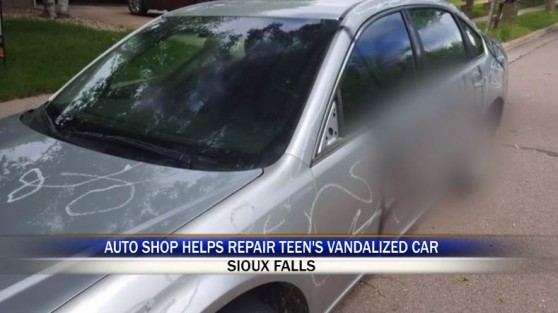 SIOUX FALLS, SD – Multiple businesses in the Sioux Empire are coming to a teen's aid after his car was significantly vandalized.
The teen posted what happened on Facebook, and it caught the eyes of many.
But it was more than just the vandalism that got people to help; the car has unique, sentimental value.
From across the street, you can't tell that this Chevy Impala has any major damage.
But get a little closer, and the scraped paint is clear as day.
"Besides the spray paint, they used an aerosol aircraft stripper on it," says Matt Juhl with Mark Juhl Auto Sports and Services Center.
Profanities and squiggly lines covered the car from the taillights to a spray painted windshield.
"I just felt the urge that he needed help and I wanted to be the one to help him," says Juhl.
The owner of the car, Ezra Hall, posted about what happened on Facebook and started a GoFundMe account to help with repair expenses.
One detail in the story caught the attention of the service manager at Mark Juhl Auto Sports and Service Center, the car belonged to the teen's aunt before she passed away from pancreatic cancer in November.
"It motivated me to help a family," says Juhl.