That's one of the reasons Classic Car Restoration at Mid-Plains Community College is so appealing. Another is its rarity: only a handful of such programs even exist.
"I can't think of any college in Nebraska that has a program like this, and there are just a few nationwide," said Don Wilson, Auto Body instructor. "That makes us pretty unique."
The two-year program consists of two semesters of Automotive Technology and two semesters of Auto Body training. Students learn through hands-on projects - the most notable of which is the college raffle car.
Every year, students reduce a classic car down to a bare metal shell. They sandblast it, then begin the long and challenging process of transforming the vehicle into a work of art.
By the time they finish, they have built and installed all basic systems of an automobile and performed all the tasks required to customize and restore a vintage car.
"They learn about everything from chassis, electrical systems, drivetrains, engines, plastic, fiberglass, upholstery and replacement and refinishing of sheet metal," said Wilson. "Most of what we build is fuel injected."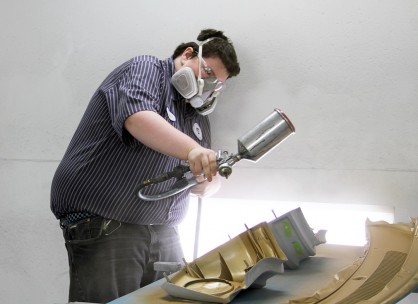 Tyler Erickson, of North Platte, sprays pieces of a future Mid-Plains Community College raffle car. Proceeds from the car will be put toward scholarships for students in the Automotive Technology and Auto Body Technology programs.
Students have to understand both traditional and modern engineering and technology before merging the two.
For example, last year's raffle car was a 1968 Ford Mustang Coupe. The drivetrain consisted of a stock 302 CID, 220-horsepower rated engine with a two-barrel naturally aspirated fuel system coupled to a C4 automatic transmission.
The students who worked on it added modifications such as a tilt wheel, new interior, an aftermarket sound system and a vinyl top. The finish, "Impact Blue," was selected from a 2014 Mustang color palette using PPG's base coat paint system.
The Mustang, like 11 classic cars before it, was taken on a tour of the state before being raffled to raise scholarship money for students in the Automotive Technology and Auto Body Technology programs.
Those who successfully completed the project received an Automotive Technology certificate in Customization and Restoration.
"There isn't a better restoration program anywhere," said Wilson. "I'd recommend it to anybody interested in working on classic cars and street rods. If you want to learn from the best, this is the place to get it done."