The event, hosted by the Iowa Collision Repair Association, was expanded to two days and held on a Friday and Saturday this year. "We took a chance on a Saturday hoping to bring more technicians to the show and it worked," said Dick Merron, president of the ICRA and trade show chairman. "We also brought more education and keynote speaker Mike Anderson." He said the new formula brought more vendors, more attendees and more success.
Everything kicked off Friday at 1 p.m., beginning with Mike Anderson's "Write-It-Right, Best Estimating Practices" seminar. It was standing room only for the five-and-a-half-hour event. When Anderson started the event, he asked for a raise of hands and asked, "How many people have not been to one of my classes before?" There was a surprising number of hands that went up and those people were in for an industry turbo-charged session.
"The number of people who were new to this class and the trade show was great news," said ICRA Executive Director, Janet Chaney. "That means we are reaching more people in the industry."
Anderson's Write–It Right program was a great beginning for this day-and-a-half program. The closing of the seminar was out in the parking lot watching Jake Rodenroth do a live demonstration of the AsTech2 Collision Diagnostics System at work! This led into the Friday night welcome reception.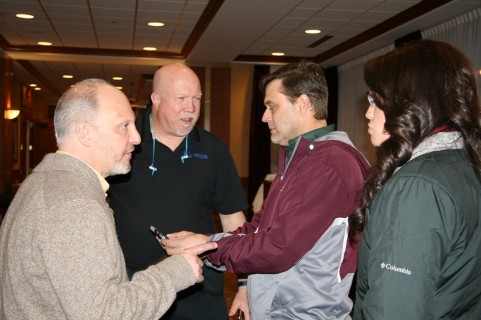 The inaugural Midwest Auto Body Trade Show welcome reception, featuring an I-CAR Silent Auction-A benefit for students, was another crowded industry room filled with great conversation. Shop owner Brent Walker, who attended the event from Memphis, Missouri, said he enjoyed the crowd. "It was all encompassing, you were always in the middle of collision industry conversation, whether it was you talking with someone, or listening to other people around you; it just took over."
The I-CAR Silent Auction continued Saturday throughout the trade show and net almost $7,000 for Iowa Student Education.
Three educational breakout sessions Saturday morning gave options for attendees: I-CAR New 16, taught by Scott Schuerman of State Farm Insurance; Collision Diagnostic Services, Jake Rodenroth, presented the new As Tech 2 scan tool; and Tom McGee, Spanesi-America's reported Industry Trends, 'What The Collision Industry Needs To Know Today."
Brent Walker attended Collision Diagnostic Services and Industry Trends, "This training was exceptional; it is a gift to those of us in the rural areas." Walker should know; he recalls the days of the beginning of SCRS in Kansas City. He would drive to KC, stay at Bill Wicklund's home, and work with John Loftus (SCRS Executive Director), Lirel Holt, Bill Wicklund, Mel Hunke, Bob Jones, Bill Eveland and others: the men who developed the training and association culture the industry follows today.
After these successful morning sessions, attendees migrated to the Midwest Auto Body Trade Show flagship event, "There Is No Free Lunch."
ICRA President Dick Merron gave an association update recognizing the board of directors for their tireless efforts of putting together the Midwest Auto Body Trade Show. ICRA lobbyist, Scott Weiser, updated the group regarding current Iowa legislation affecting the collision repair industry. Weiser's guidance at the State Capital in Des Moines, has led the Iowa Collision Repair Association to success and recognition.
This year, Weiser invited State Representative, Assistant Majority Leader Zach Nunn, to speak to the assembly. Nunn represents the district where the event was held and it was his first introduction to the collision industry. He is a new face to the Iowa political arena coming from a military background and currently a college professor at Drake University.
Representative Nunn was pleased to meet with this industry, "When I started my campaign the very first check I received was from an auto body shop-the very first!" he said. That was Altoona Auto Body, a member of the Iowa association.
After Iowa business, Anderson delivered a keynote address, 'Face Your Future' and received a standing ovation from this record-breaking crowd. Anderson hit the mark with all in the room. He spoke to the souls and hearts of everyone in the room with encouragement and strength, some 'tough love' and lots of kindness.
Over 70 vendors populated the trade show floor, offering door prizes, product demonstrations and new information. The floor was buzzing and the booths were full of activity. Merron took the roving microphone to each booth and announced door prizes. Chad Holamar, owner of Dent Smart, announced a $500 donation to the Iowa Collision Repair Association to fund a student scholarship.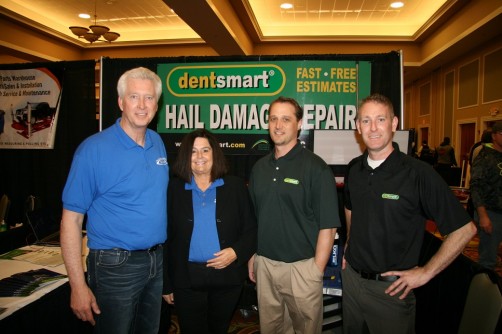 (L to R) Dick Merron, president of the ICRA, and Janet Chaney, standing with Chad Holamer and Zort Brown of DentSmart. Chad Holamer donated $500 to the ICRA to fund a student scholarship program.