"The selection process began when we reached out to a partner, United Way. United Way introduced us to Love INC, which helped select a well-deserving recipient for the vehicle. Charles Bihomora was one among many wonderful people considered. He was selected because he is a very driven young man. He is a full-time student who values the importance of family and embraces what it means to help others," said a spokesperson at Schaefer Autobody.
After the ribbon cutting ceremony, the evening was kicked off with the donation of the vehicle to Bihomora. He was surrounded by his family and community members. Schaefer Autobody said they are honored and happy to help their local community members.
They also made a second vehicle donation on January 21 to a local marine. The donation took place at their O'Fallon, Illinois shop.
"One of the best days of the year for us is when we can honor those who serve our country. We have been given the opportunity to award a US service man or woman a donation vehicle to help make their life better," said Scott Schaefer, vice president of Schaefer Autobody Centers.
Schaefer Autobody Centers worked with Travelers Insurance and the Missouri USO to select the recipient from a number of candidates who had submitted an essay talking about their current needs and how a donation vehicle would help them.
This year's recipient was Marine CPL Chester Nash III. He said he was relieved that his wife and baby would have reliable transportation again while he is serving the United States. "I'm still kind of in disbelief about it, it is a lot to take in. I'm just very very humbled by it," said Nash.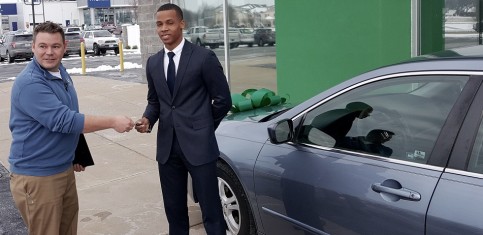 O'Fallon Donation
"We review all the essays and select a winner based on the one we feel is most deserving. He had an accident where his car was totaled and unfortunately he was still making payments on that totaled car, without having a vehicle to drive. It was a real honor and privilege for us to be able to award him this vehicle and it just feels great to be able to do something good for those who serve our country and for everything they do for us," said Schaefer.
The last few years Schaefer Autobody Centers has donated several vehicles, partnering with National Auto Body Council's Recycled Rides program. To learn more, visit https://www.nationalautobodycouncil.org/programs/recycled-rides/
The company was founded in 1985 by Schaefer's father, President Steve Schaefer. The family-owned collision center started with one location in Webster Groves, MO and has grown to 10 locations in nearly 30 years.
The Schaefer family attributes their business growth and longevity to their focus on customer service, good relationships with most major insurance companies, and providing employees with a positive and rewarding work environment. Schaefer Autobody Centers was awarded the Better Business Bureau (BBB) "2010 Torch Award" for exceptional ethical business practices.
In addition to complete auto collision repair, services include dent repair, auto glass windshield replacement, auto towing and bumper repair. For informtion, visit www.schaeferautobody.com or contact the main customer sales and service center at 636-305-8288.