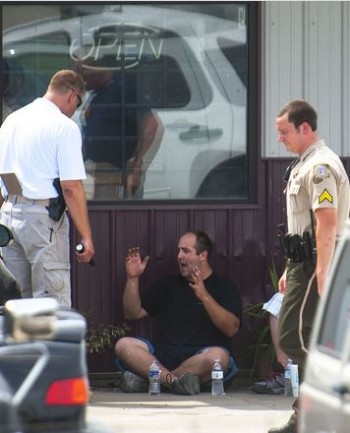 Officers speak to a man on July 30 outside RC Autobody, 1450 Jade Road, after two men stole a car and shot an employee. Authorities arrested two suspects after a chase that ended near the Lake of the Ozarks.
Vivian Abagiu/Tribune
Chism said another RC Autobody employee returned fire during the altercation but did not hit either culprit. After the men fled, the car was spotted south of Jefferson City. Authorities chased the vehicle to the Lake of the Ozarks, Chism said, where officers arrested Ruben D. Harris, 34, and Ryan A. Rummans, 33, both of Kansas City. Harris was jailed in Camden County on suspicion of first-degree tampering with a motor vehicle, resisting arrest and unlawful use of a weapon, according to a Missouri State Highway Patrol arrest report online. Rummans is suspected of the same charges and was taken to a hospital for observation. Information about the cases was not available in online court records Friday morning. The arrest reports said Harris was jailed without bond.
A Camden County Sheriff's Office news release said the pursuit ended in Hickory County, where at least one of the suspects fired at an occupied civilian vehicle. Officers exchanged gunfire with the suspects after their car crashed into a ditch, the release said.
Both men had gunshot wounds, White said. No one else was hurt, the release said.
Patrol troopers and Callaway County sheriff's investigators were still at the arrest scene late into the afternoon Thursday processing evidence. Chism referred questions about the chase and arrest to the highway patrol. Cpl. Scott White, the patrol's spokesman, alerted reporters to the online arrest reports.
"There will be a magnitude of charges" for the suspects, Chism said, "ranging from felony assault, stealing a motor vehicle, robbery — just a whole gamut of charges. Not to mention they'll have multiple charges in various counties near Lake of the Ozarks for the chase near that area."
Chism said several agencies, including the Callaway County Sheriff's Office and the Missouri State Highway Patrol, were cooperating in the investigation.
We would like to thank Columbia Daily Tribune for reprint permission.